Malaysia Charges Wife of Ex-PM Najib With Money Laundering
(Bloomberg) -- Malaysian prosecutors charged the wife of ex-premier Najib Razak with money laundering and tax evasion, the latest chapter in the stunning downfall of the former leader and his family after he lost power in May.
Rosmah Mansor pleaded not guilty to 17 counts of handling funds from unlawful activities involving 7.1 million ringgit ($1.7 million), according to court proceedings on Thursday. The same morning, Najib arrived at a separate court for his case management of money-laundering, abuse of power and criminal breach of trust charges related to 1MDB, the state fund that lies at the center of multiple globe-spanning probes from Switzerland to Singapore.
Lead prosecutor Gopal Sri Ram declined to comment on if Rosmah's case is linked to 1MDB, also known as 1Malaysia Development Bhd.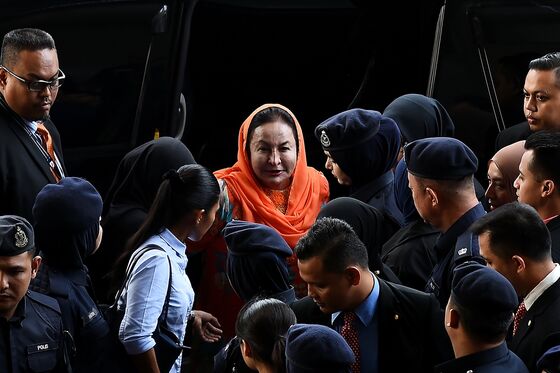 The allegations are a first for Rosmah as Malaysian investigators widen their scope beyond the former premier. Previous charges have centered around Najib, who has asserted "politically-motivated" moves behind attempts to convict him. Prime Minister Mahathir Mohamad, who returned to power in May with pledges to get to the bottom of the 1MDB scandal, has said he isn't seeking revenge and has focused his efforts on recouping money lost through the state fund. He is targeting to regain $4.5 billion.
Rosmah is accused of receiving a total of 7.1 million ringgit from unlawful activities in her Affin Bank Bhd. account, and allegedly failed to declare the same amount as income for tax purposes. The charges each carry a punishment of imprisonment, and fines that could amount to the millions.
The judge presiding over her case set her bail at 2 million ringgit, lower than the 10 million ringgit sought by the prosecutor. Her case management date is set for Nov. 8.