Maine Liberal Arts College Bowdoin Crushes Richest Schools in Endowment Gains
(Bloomberg) -- Bowdoin College posted a 15.7 percent investment gain, the highest one-year performance among the richest schools including much larger Ivy League endowments.
Stanley Druckenmiller, the chairman of Bowdoin's investment committee and a billionaire investor, said in an interview Tuesday that venture capital and private equity "were well represented with fabulous returns." In the statement, Bowdoin didn't disclose asset allocation or performance by asset class.
Druckenmiller, who graduated from Bowdoin in 1975, attributed the fund's success to Chief Investment Officer Paula Volent, her staff and their selection of external managers.
"She's not only been in the right area but with the right practitioners," he said.
Druckenmiller said Volent's dual strategy is to be aggressive on private equity and venture capital investments and balance the portfolio with managers who can make money in a bear market.
Volent has also preserved liquidity in the endowment to insulate it in a potential downturn, he said.
Volent, who formerly worked for Yale University's endowment and has been with Bowdoin since 2000, was traveling and unavailable for comment, a school spokesman said.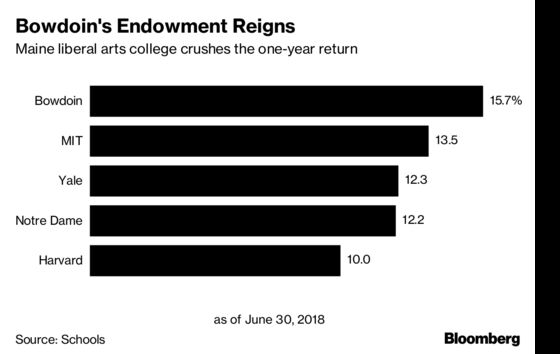 Bowdoin bested a median 8.3 percent gain for endowments of all sizes, according to preliminary data compiled by consultant Cambridge Associates.
"These outstanding investment results speak once again to the exceptional work" of Volent and "her very able team, and to the discipline and foresight of our investment committee," Bowdoin President Clayton Rose said in the statement.
The fund gained an annualized 8.6 percent for three years; 11.8 percent for five years and 8.8 percent for 10 years.