Mad Morning Sees Half Dozen S&P 500 Flips as Tech Gains, Fades
(Bloomberg) -- Traders returning dazed from the worst stock selloff in nine months found themselves engulfed in more chaos Thursday as volatility surged and the S&P 500 went from up to down and back half a dozen times.
Apple Inc. was up as much as 1.6 percent and down 1.5 percent in the first two hours, and that was nothing compared with trading ranges in Netflix Inc. and Advanced Micro Devices, which were three-times as wide. Even more stress landed on energy and banking shares, which supplanted tech on Thursday as the market's whipping boys.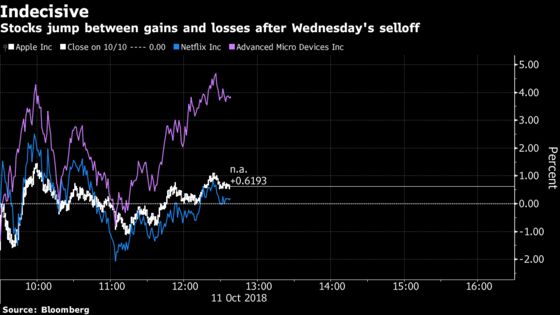 "You're seeing buyers and sellers going 'I'm fearful,' 'I'm greedy,' 'Maybe I'm more fearful than I am greedy, so I'll sell, sell, sell,' or 'Maybe I'm more greedy than fearful, buy, buy, buy,"' Kim Forrest, a senior portfolio manager at Fort Pitt Capital Group in Pittsburgh, said by phone. "It's just this tussle of who's going to win at the end of the day?"
Nobody knows which companies will thrive and which will flop, according to Forrest. Her firm owns shares of PPG Industries Inc, the paint giant that issued an earnings warning this weak and stoked further fears about the impacts of trade tensions with China. The crux of the weakness isn't so clear.
"We're trying to figure out who are winners and losers," Forrest said. "Who's exposed to China, who's exposed to currency, and who's exposed to interest rates."
The tumult wasn't confined to tech. Boeing Co. swung between a 0.6 percent gain and a 2.2 percent loss in the first two hours of the session on no particular news, swinging at a speed and magnitude not seen since April 14. Ralph Lauren was down as much as 0.7 percent and up as much as 2.9 percent in the first two hours, a reversal unseen since late August. Under Armour Inc. swung between a 1.3 percent loss and a 2.7 percent gain before noon.
Many of the contours that marked Wednesday's selloff reversed. At 11:30 a.m., companies cheap enough to be considered value stocks in the Russell 1000 were down 1.1 percent, compared with 0.6 percent in their growth counterparts. That's the opposite of yesterday, when growth plunged twice as fast. The technology and communication services groups led gains in the S&P 500 after getting pummeled Wednesday. Utilities and energy stocks flailed.
"The groups that were sold the hardest are actually the best performers today," said Michael O'Rourke, JonesTrading's chief market strategist. "People are getting concerned about a cyclical top in the market and earnings, and they're worried between the combination of the headwind of tariffs and rising interest rates we won't be able to snap back as quickly as we have in recent years. It's more about bouncing around."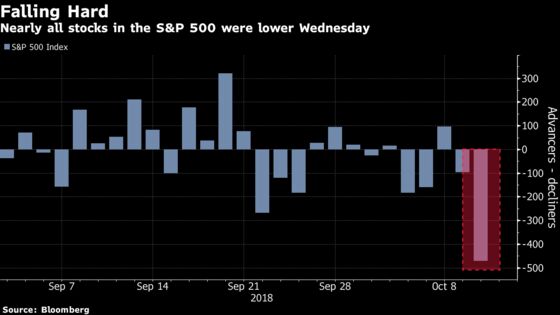 Selling was also more discriminate. Only 16 companies in the S&P 500 managed to gain on Wednesday, while almost 150 were up today, even as the broader index declined for a sixth straight day. Technology stocks were the best performers in the market after tumbling almost 5 percent on Wednesday.
Anyone who thought the Cboe Volatility Index topped Wednesday when the stocks plunged 3.2 was wrong. The gauge, based on prices for options on the S&P 500, went from 23 to 24 in the opening hours before falling back.
"We are moving off a period of low rates that have tended to suppress volatility," said Aaron Balsam, a senior analyst on William Blair's Dynamic Allocation Strategies team. "Volatility is a little bit higher than normal. It has moved from low to normal-ish."