N.J., Pennsylvania Hit by Mad Dash for Gasoline Amid Crisis
(Bloomberg) -- The gasoline panic that has plagued the U.S. South for days is spreading north to states like New Jersey and Pennsylvania, wiping out supplies at some terminals and prompting hours-long queues at others.
Until now, southern New Jersey and cities like Philadelphia had been spared from the deep supply crunch triggered when a criminal hack knocked the biggest North American fuel pipeline out of service last week. A combination of local oil refining and easy access to imported supplies helped mid-Atlantic cities cope.
But with desperate fuel buyers searching further afield for gasoline and diesel, at least three distribution hubs in Pennsylvania have run dry, according to Gary Kandola, chief financial officer at Express Fuel Distributors Corp., which supplies gas stations.
"The situation completely changed overnight," he said. "They have people coming in from Virginia, Maryland" to acquire fuel.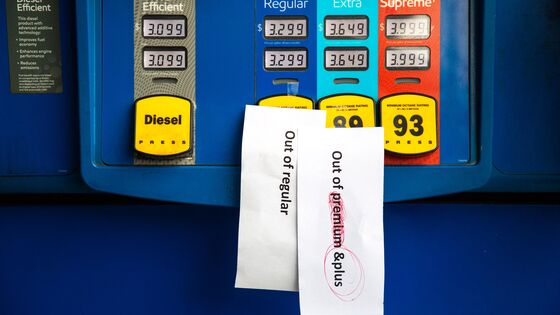 So far, the region's retail outlets haven't been hit by the sort of crush that's occurred in several southern states. At distribution terminals that still hold supplies, however, lines are lengthening and the waits have stretched to two hours in some spots, Kandola said.
Some fuel marketers are being limited to 50% of their normal daily supplies in Pennsylvania, said Rick Melzer, chief executive officer of Melzer's Fuel Service, a distributor.
"The further east you go, the more of a problem it's becoming," he said. He expects the limits to remain in place for weeks.
New Jersey Governor Phil Murphy reassured residents that fuel supplies are sufficient.
"At the moment we don't have a supply issue," Murphy said during media briefing in Trenton. "That could change if this is extant for a long period of time."