Macro Risk Advises Hedging Tech Through the G-20 Meeting
(Bloomberg) -- U.S. technology stocks have been beaten down. Their realized volatility is way up. And that's even before the highly anticipated Group of 20 meeting and deadlines on U.S.-China tariffs.
Sounds like the perfect environment for options strategies.
Macro Risk Advisors' Vinay Viswanathan and Dean Curnutt think so, and have designed trades to capture the event risk from the G-20 meeting where U.S. President Donald Trump and Chinese leader Xi Jinping are expected to meet amid an escalating trade war, as well as the scheduled rise in the U.S. tariff rate on about $200 billion of imports from China starting in January.
"Given the persistent flat put skew for tech stocks, we like owning out-of-the-money puts or put spreads on the QQQ expiring shortly after the G-20 Summit," Viswanathan and Curnutt wrote in a note Monday, referring to the Invesco QQQ Trust Series 1 exchange-traded fund. "The market is only pricing in a 1.50 percent daily move for the QQQ around G-20, below its realized daily move of 1.65 percent (suggesting negligible event risk priced in)."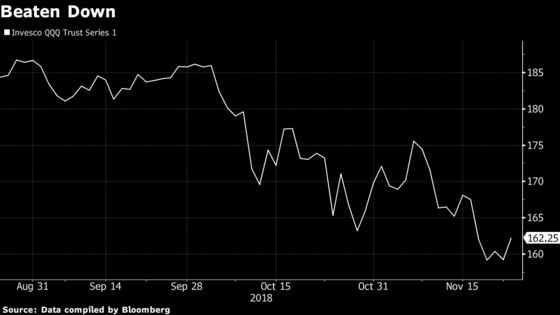 The report also suggested purchasing a January $40 straddle on the iShares China Large-Cap ETF, ticker FXI.
"Due to its exposure to both Semiconductors and U.S./China trade talks occurring at the G-20 Summit (Nov. 30th – Dec. 1st), FXI could be a good place to accumulate long volatility exposure," the strategists wrote. "Owning FXI vol expiring in January, after the G-20 Summit and the Jan. 1 tariff implementation date, tactically makes sense to us."