Macau Casino Shares Fall as Typhoon, Weak VIP Hit Revenue
(Bloomberg) -- Shares of Macau casino operators slumped after data showed the weakest revenue growth in two years at the same time as concern increases that the Golden Week holiday will be weaker than expected.
The Bloomberg Intelligence gauge of Macau casino stocks sank to the lowest level in almost three weeks as a typhoon and a pullback by high-stakes bettors weighed on gambling revenue, extending a softening of growth since the second quarter.
Gross gaming revenue in Macau rose 2.8 percent in September from a year earlier, the weakest showing since August 2016. The result fell far short of the 6.5 percent median prediction of analysts, who had already cut their forecasts in half after Typhoon Mangkhut ripped through Macau in mid-September. The storm forced a 33-hour shutdown of casinos, the first time resorts have closed since gambling licenses were given out in 2002.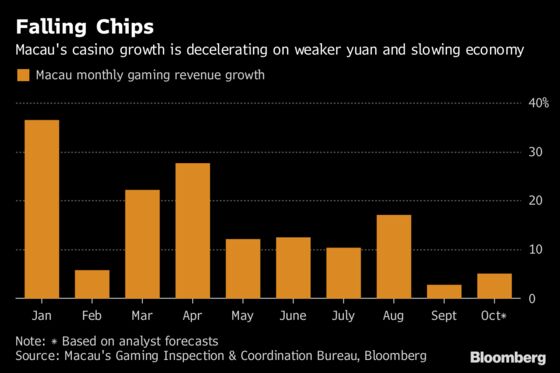 The typhoon added to casino operators' woes over the past months. Analysts have lowered their estimates for this year and 2019 as a weakening yuan, China's economic slowdown and escalating trade tensions with the U.S. threaten to derail 26 straight months of revenue gains in Macau. The benchmark gauge of Macau casino stocks is down 36 percent since the end of May on worries that high rollers are easing up on their bets.
"The Typhoon Mangkhut and casino suspension were the obvious drag, but underlying demand in VIP was softer than expected as well," JPMorgan Chase & Co. analyst DS Kim wrote in a note Monday. "Though not a big surprise, this does suggest the market will need to lower VIP expectations for the fourth quarter and next year."
Key junkets didn't see improved volume after the Mid-Autumn Festival in late September following the typhoon, and VIP growth was negative for the month, Morgan Stanley analysts Praveen Choudhary and Jeremy An wrote in a note Monday.
The September gaming report was released Monday when the Hong Kong market was closed. The benchmark gauge of Macau casino shares fell 2.9 percent on Tuesday, with Wynn Macau Ltd. and Galaxy Entertainment Group Ltd. dropping more than 4.5 percent. In the U.S. on Monday, Wynn Resorts Ltd. lost 1.4 percent while MGM Resorts International fell 3.5 percent.
Analysts forecast the weakening trend will continue, with October growth predicted at 5 percent. The industry is closely watching the influx of tourists during Golden Week as an indicator for the rest of the month. The holiday, which started Monday, is considered peak season for Macau.
"Golden Week is shaping up to be weaker than initially expected," Bernstein analysts led by Vitaly Umansky wrote, noting that there are still rooms available for booking during the week.
About 40 percent of rooms in the territory's 3-to-5-star hotels were fully booked as of Friday, according to online booking websites including Agoda.com and Expedia. That compares with 80 percent at roughly the same time last year. Hotels in Macau are charging about double or triple their usual prices, a lower premium than in 2017 when some suites were listed at five times the typical rate.
On a more positive note, data from the Macau Government Tourist Office on Tuesday showed Chinese visitors arriving in Macau on Monday rose 36 percent from a year earlier. Daily figures for the holiday period can be volatile, and investors will be watching the trend in arrivals as the week progresses.