M&S Plunge Provides Reality Check After Stock's False Dawn
Thursday's tumble in Marks & Spencer Group Plc shares served as a reminder that the U.K. retailer needs to show more improvement in its turnaround to justify a flurry of analyst upgrades in recent months.
The stock fell as much as 12%, the most since February 2019, and was the worst performer in the FTSE 350 General Retailers Index after holiday sales at its long-struggling clothing & home unit came in weaker than consensus estimates and the company pointed to gross margins around the lower end of its guidance.
The slump comes hot on the heels of the stock's best quarterly performance in five years. M&S shares jumped 16% in the last three months of 2019 after at least five analysts raised their recommendations following first-half earnings that showed improved clothing sales in October. The prospect of a brighter outlook for U.K. consumers after the Conservative Party's election win in December also helped boost sentiment.
Yet the stock still ended 2019 with a decline of 9.7%, a fifth straight annual drop that has reduced the company's market value by more than half and seen M&S demoted from the FTSE 100 Index for the first time.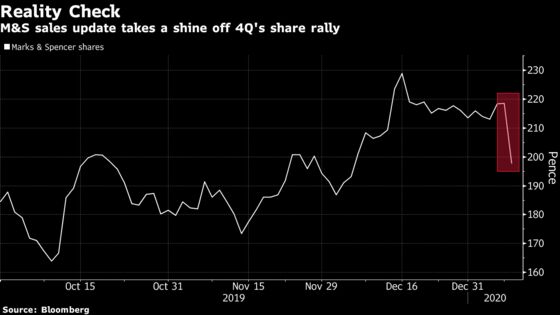 "Today's update is a reminder that bottom-up challenges may water down the benefit from an increasingly positive macro picture," said James Grzinic, a Jefferies analyst with a hold rating on the shares.