Luxury Looks Good, But Let's See How Long Europe's Rebound Lasts
(Bloomberg) -- The good news: European shares are heading for their first day of gains in six sessions, partly due to a jump in luxury stocks after another stellar sales report from the owner of Gucci. The bad news: It might not last.
U.S. stocks rallied after Europe's equities markets closed on Tuesday, though now futures are pointing to another day of declines in New York. Lately, European gains have often been derailed by a bad open on Wall Street.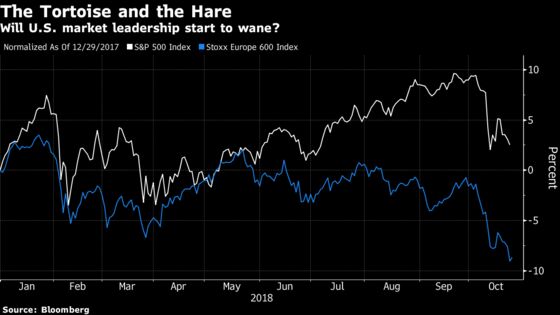 For now, the Stoxx Europe 600 is clinging to a 0.5 percent gain. Retail is among the best-performing sectors as Gucci's better-than-expected sales blew apart fears that the Chinese were tightening their purse strings for luxury. Barclays also saw securities trading income rise, beating even its U.S. peers.
But not all earnings news was good this morning:
Deutsche Bank cut its revenue outlook
STMicroelectronics's forecast was disappointing, worsening the already sour mood within tech stocks
Volkswagen dropped after an executive warned that trade tensions were dragging down the Chinese market
"We would like to be bullish in Europe and I think the time will come, but as long as you have a deceleration in leading indicators and the Italian budget saga will continue to go on, I find it quite difficult," said Luca Paolini, chief strategist at Pictet Asset Management. "Europe is cheap, but not cheap enough to jump in."
The U.S. may no longer lead equity gains worldwide, but emerging markets may be in a better position to benefit, Paolini said.
Topics being considered by European investors this morning include:
Purchasing Managers' Index readings for the euro area were below estimates and the previous month's numbers, while remaining in the expansionary zone
Traders will want to see if European Central Bank President Mario Draghi says anything interesting about Italy or inflation at Thursday's ECB meeting, though the bar for a surprise will be high
Italian Prime Minister Giuseppe Conte said on Wednesday his government has no "Plan B" for its budget as the EU demanded unprecedented changes to bring the country into line with spending rules
"The sell-off in markets is a classic growth concern which started with the fears of the impact on growth from high interest rates," Roger Jones, head of equities at London & Capital, said by email. "It is now clear that there are areas of the global economy which are softening and given high equity valuations and expectations, stock markets are vulnerable."