Luxury, Bank Stocks Rally as Hong Kong's Lam Withdraws Bill
(Bloomberg) -- European luxury goods stocks and Asia-exposed banks rallied after Hong Kong Chief Executive Carrie Lam formally withdrew the extradition bill that has caused months of protests in the city.
Lam announced the move in a televised address on Wednesday, after the South China Morning Post reported earlier that she planned to do so. The bill had already been suspended, but an official withdrawal was among key demands of pro-democracy protesters. Local stocks surged the most since 2011 and the Hong Kong dollar jumped following the earlier report.
In Europe, luxury goods names held earlier gains following the news, given the reliance the industry has on sales to Chinese consumers visiting Hong Kong. Swatch Group AG and Cie Financiere Richemont SA, two of the companies cited by analysts as the most exposed to the disruptions, were higher. Kering SA, LVMH SE, Moncler SpA and Hugo Boss AG all rose, helping the Stoxx 600 Retail sector hit its highest level since July 29.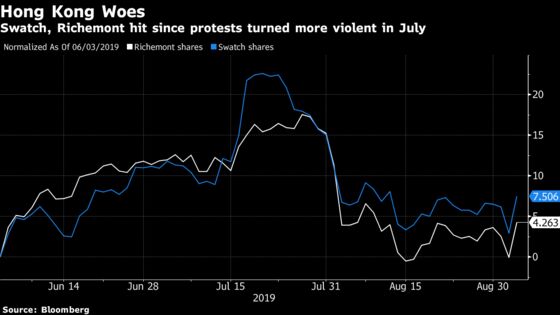 Other Hong Kong-exposed stocks also benefited. HSBC Holdings Plc and Standard Chartered Plc, which both have a major presence in the Hong Kong market, were both higher. HSBC's London-traded shares rose the most intraday since May 3. Shares in Prudential Plc, the U.K. insurer which gets more than half its revenue from Asia, rose as much 6.8%, the most intraday since March 2018.