Luxury Takes $160 Billion Hit Amid Fear of China Slowdown
(Bloomberg) -- Luxury stocks declined on Tuesday as concerns mounted over a downturn in consumer sentiment in China, extending a sell-off that has seen global luxury companies lose about $160 billion in combined market value this month.
The tumble continued after Italian menswear maker Ermenegildo Zegna Group said that Chinese consumers had become more careful in spending in the past few months due to the impact of the U.S.-China trade war, among other reasons. The clothing retailer said it expects a slowdown in luxury goods demand in the second half of the year.
Selling was most pronounced among Hong Kong-traded stocks, with Prada SpA falling as much as 6.4 percent while L'Occitane International SA dropped as much as 3.5 percent and Chow Tai Fook Jewellery Group Ltd. declined as much as 6.4 percent. LVMH was down as much as 1.3 percent in Paris.
That followed last week's rout, when shares of LVMH, Tiffany & Co. and other luxury brands across the globe fell on concerns that Chinese officials are cracking down on travelers coming home with overseas goods, adding to worries about an economic slowdown in the country. The S&P Global Luxury Index has fallen about 11 percent this month, reducing the combined market capitalization of its members to $1.44 trillion.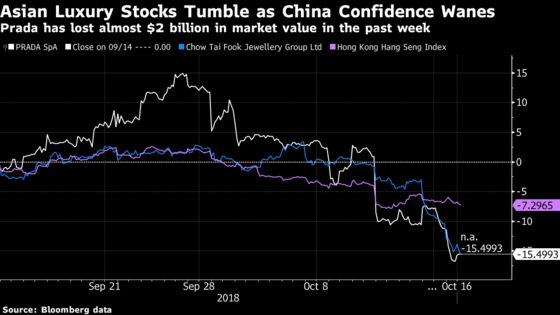 With the global luxury sector reliant on Chinese demand for over a third of sales, marquee brands across Europe and Asia have been slumping as consumer confidence in the world's second-largest economy wanes. Besides the ongoing U.S.-China trade war, sentiment in China is being depressed by rising business costs and food prices as well as employment contraction.
"When consumers don't feel a sense of hope and optimism, luxury purchases are the first to go," said Guotai Junan Securities analyst Terry Hong. "During such times, consumers adopt a wait-and-see approach on all nonessential purchases."
In an interview in Shanghai on Sunday, Chief Executive Officer Ermenegildo Zegna said that the family-run suit brand is planning a more conservative budget for investment in China next year due to the anticipated luxury demand slowdown. Though China is among its biggest markets, it will not expand store count much. And while the trade war is hurting consumption patterns, it isn't really affecting the brand's production, which is mostly in Italy and Europe, he said.
"I am more cautious than three months ago. For next year, we are going to plan a conservative budget because there are many uncertainties in the air and you have to be realistic," said 63-year-old Zegna, whose company is known for upscale men's clothing and accessories. "You have to be ready for the worst and act accordingly."