Looking at This Asset, You'd Think the Sell-Off Hadn't Happened
(Bloomberg) -- European stocks sank to an almost two-year low this week, but you'd never know how bad it got by looking at the ETF flows.
The Vanguard FTSE Europe ETF, the region's biggest equity-focused exchange-traded fund, recorded outflows of about $160 million on Wednesday, only the most since June, and no redemptions on Thursday, when the market sell-off escalated. The iShares MSCI Europe Financials ETF has lost about $46 million this week, which pales beside the $438 million outflow seen in late August.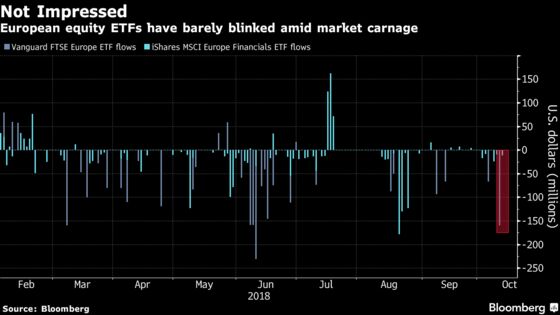 The reason might be very simple: there's no money left to pull from Europe. Among all the regions, European equity funds have this year suffered the worst outflows, bleeding cash for 30 out of the past 31 weeks, which adds up to a hole of $46 billion since the start of the year, according to EPFR Global data.
"Ahead of the current sell-off in global equities, investors appear to have made up their mind, once again, on Europe. The net outflows from the region have been significant" over the past year, Citigroup Inc. strategists, including Jonathan Stubbs, said in a note. "We think that there is opportunity to take on risk, but see little appetite to do so."
Continuing turmoil in Italian and British politics and the slowdown in European growth are spooking investors away from the region's equities. Emmanuel Cau of Barclays Bank Plc also points out that after the massive outflows, European stocks are under-owned and oversold, but could benefit from the rotation toward value shares.