Long-term India Bonds May Rally on Government Debt Plan, HSBC Says
(Bloomberg) -- HSBC Holdings Plc. has changed its view on Indian sovereign bonds after last week's budget.
Moving away from its curve steepening call, it now sees longer-maturity bonds climbing, thanks to the government's plan to move a portion of its record $104 billion borrowing to markets overseas.
The lender had favored shorter-tenor debt which benefited from the central bank's continued monetary easing, and expected the yield curve to steepen, Pin Ru Tan, Asia-Pacific rates strategist at the lender wrote in a note. The new policy has led to a change in view, and it now sees longer-dated debt rallying too.
India's five-year yield has fallen about 18 basis points since July 4, the day before the federal budget, compared with around a 23-basis point drop in the 10-year yield to levels last seen in September 2017. That's led to the so-called bull flattening of the curve -- which occurs when longer-end yields fall faster than shorter-end ones.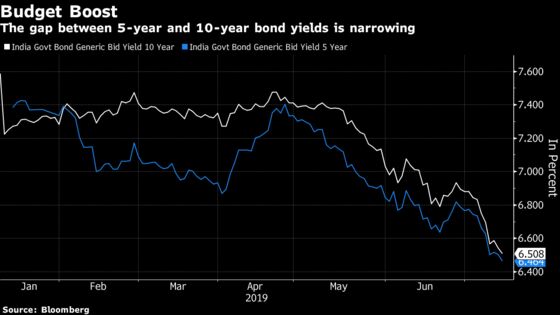 The government surprised investors in Friday's budget by paring its fiscal-deficit target and announcing a plan to borrow about $10 billion overseas. The fundraising will help ease the pressure on the local market from the proposed 7.1 trillion rupee borrowing for the year to March 2020.
Global investors have bought a net $953 million of local debt so far this month, after plowing $1.2 billion in June, data compiled by Bloomberg show.
"The front-end is constrained to some degree by how far RBI rate cut pricing can go," said Dushyant Padmanabhan, strategist at Nomura Holdings Inc. "On the back end - besides the external debt, there's support from foreign portfolio inflows, global yields."