Long-Awaited Rebound in Swiss Stocks May Be Bad News for Europe
(Bloomberg) -- Swiss stocks are finally doing better, and that's not good news for the rest of Europe.
The Swiss Market Index, the worst-performing benchmark in developed Europe this year, has jumped versus the region since late June. With investors growing wary of slowing economic momentum and risks from a trade war, Europe's two-year boom in cyclical shares has started to unravel -- a shift that's helping the more defensive Swiss market.
More broadly, European markets tend to underperform when risk aversion is dominant.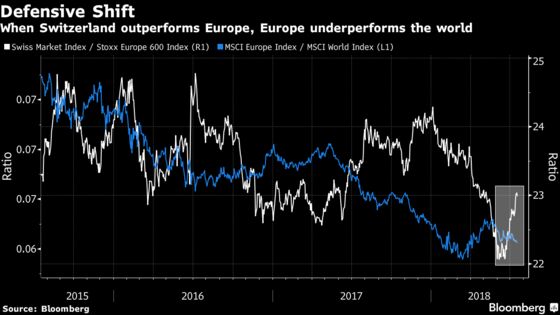 "There is a trend toward people getting more into defensives and it's benefited the Swiss market," said Francois Savary, chief investment officer of Prime Partners SA in Geneva. "It would be a bad development for Europe in the medium term."
Swiss stocks are also faring better because the nation's economic data beat expectations and the currency isn't as strong as anticipated, Savary added. The Swiss market's defensive nature stems from the franc, which investors consider a safe haven, as well as sector composition, which includes health care giants such as Roche Holding AG and Novartis AG.
FIS Group, a U.S. asset manager that oversees $5.5 billion of funds, has started looking into Swiss stocks owing to their defensive nature, chief investment officer Tina Byles Williams said in an interview last week. As European economic growth slows and earnings disappoint, Swiss shares are favored over euro-zone names, according to HSBC Holdings Plc strategists.