Lone-Wolf Analyst Who Advised Selling Tencent Isn't Optimistic
(Bloomberg) -- Don't expect a reprieve for Tencent Holdings Ltd. any time soon, said the sole analyst who anticipated the battle-scarred company's woes with a sell rating two months ago.
Steve Chow of ABCI Securities Co. was the only one out of 52 analysts in the Bloomberg consensus with a negative outlook for the social media and gaming giant. The rest — as then, and now — had the equivalent of a buy rating. The shares of Tencent have slumped 18 percent in the past week as China's clampdown on new gaming titles became clearer, and the Shenzhen-based company missed profit estimates.
In a new report on Thursday, Chow upgraded his assessment for Tencent to a hold, following the stock decline. His target price is now HK$340. The shares fell 3 percent to HK$325.80 at the close.
"The weak quarterly result showed that the gaming division had problems, some of it was due to regulation, some of it was because users were spending time on alternative platforms like short video platforms," Chow said. "The company is trying to offer some new games and also live-streaming platforms, but that can only mitigate the negative effect, not reverse it."
Investors who sold based on Chow's recommendation would have been able to avoid a sell-off that erased about $86 billion in market value. New game approvals in China have been frozen, as the departments regulating the industry are being restructured. As a result, Tencent hasn't been able to cash in on the world's most popular games, including Fortnite and PlayerUnknown's Battlegrounds. The company relies on games and new content to draw and keep users for its WeChat messaging service, and is counting on a temporary test permit to alleviate its gaming dilemma.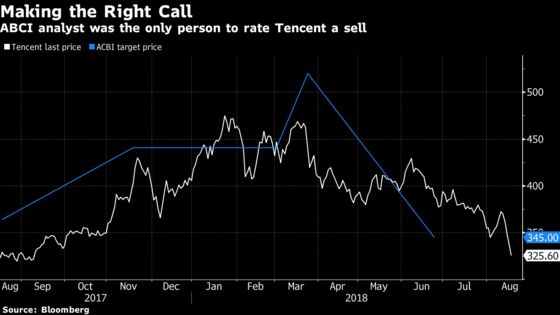 Chow highlighted how short video platforms including Douyin are starting to compete for user attention, weakening Tencent's ability to attract and retain gamers. While Tencent's efforts to introduce new titles might make up for weak sales, it's harder to prevent people from migrating to alternative entertainment.
Douyin, an app owned by fast-growing rival Beijing Bytedance Technology Co. ranked No. 1 in monthly iOS downloads from February through June, exceeding WeChat, YouTube and Facebook, according to data compiled by App Annie. "This could potentially reduce users' time on online gaming and consequently, the segment revenue," Chow said.
There's little clarity on when the game-approval process would return to normal, putting more pressure on a company that has lost more than $180 billion of market value since its January peak.
In his report, Chow cited three risk factors going forward: other Tencent businesses impacted by the online gaming woes; tighter regulations for games and internet finance and; the threat of Facebook Inc. or Google entering China.
For more on China's app economy, check out the Decrypted podcast: