Lone Star's Rare M&A Concession Earns Hedge Funds Quick Money
(Bloomberg) -- Hedge funds including Segantii Capital Management are set to make some fast returns after Lone Star made a rare concession in a contentious U.K. takeover tussle.
Lone Star boosted its bid for retirement home developer McCarthy & Stone Plc on Monday to 647 million pounds ($862 million) following investor opposition. The last-minute sweetener of 5 pence a share translates into an extra 27 million pounds for shareholders, which helped ensure they approved the deal later in the day.
Investors like Segantii Capital have been building up their stakes since Lone Star unveiled its first proposal on Oct. 23. McCarthy & Stone shares gained around 40% in the immediate aftermath of the announcement. Samson Rock Capital and former Paulson & Co. executive Orkun Kilic's Berry Street Capital Management have also been increasing their positions in McCarthy & Stone since the initial offer, according to London regulatory filings.
It's a nice win for Samson Rock and Berry Street, which both started last year. They should count themselves lucky: Lone Star is known as a savvy operator that won't overpay, so such concessions don't happen every day.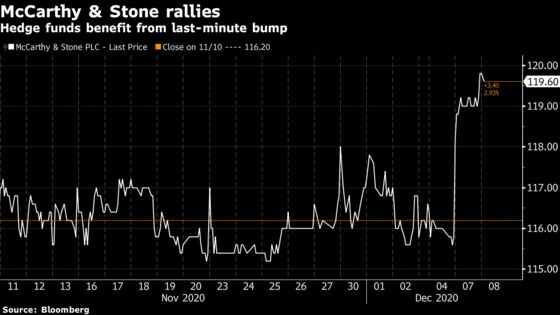 This is only the third time over the past decade that Lone Star had to improve its bid for a public company, according to an analysis of major deals tracked by Bloomberg. One of the other instances was earlier this year, when Lone Star boosted its offer for Japanese developer Unizo Holdings Co. multiple times to beat out rival bids from Blackstone Group Inc. and Fortress Investment Group.
Other McCarthy & Stone shareholders set for a payday from the deal include Oak Hill Advisors as well as British businessman Steve Morgan, who first revealed his stake in July when it crossed the 3% disclosure threshold. He's known for founding builder Redrow Plc and once owned the Wolverhampton Wanderers soccer team.
At least one McCarthy & Stone investor decided to immediately take advantage of the positive news by offloading a 0.6% stake in the company early Monday at 118.75 pence per share. The identity of the seller couldn't immediately be learned.
Read more:
Hedge Fund Samson Rock to Close to New Money After Assets Triple
Ex-Paulson Partner Gets Schonfeld Backing for His New Hedge Fund
Lone Star Ups Unizo Bid to Win Over Investors; Shares Surge