London Office Values Could Gain 25% Over Next Five Years
(Bloomberg) -- London's office market is set to awaken from its slumber.
Values in the U.K. capital should jump about 25% over the next five years, outpacing other European capitals, according to DWS researchers. The price gap that's opened up since the Brexit referendum will narrow thanks to the U.K.-European Union trade deal and economic prospects for London that now makes the city look cheap by comparison, the firm said in a report Wednesday.
"Prime London office values since 2016 are down by about 10%," Simon Wallace, global co-head of real estate research and strategy at DWS said by telephone. "That compares to major EU cities that have risen about 40%."
Brexit nerves have kept a lid on London office development, meaning the city faces a relative dearth of new projects in the coming years. That's helped limit rental drops for the best new space even as the pandemic unleashed the worst recession in 300 years, emptied offices and spurred some firms to even consider permanent home working.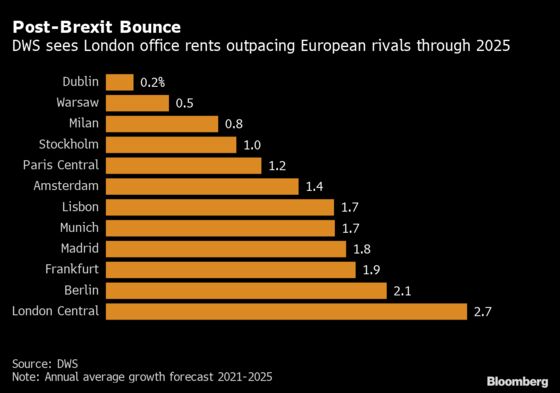 Prime London office rents are predicted to recover next year, supporting future price rises for buildings as global investors return after the pandemic, says DWS, which is majority-owned by Deutsche Bank AG. That could keep total returns outshining EU rivals over the next decade, it forecasts.
"It is fair to say that risks remain elevated and we are going to be watching the discussion around financial services equivalence with the EU very closely," Wallace added. "But when you look at the fundamentals -- vacancy for the best space remains low; we are seeing less development; and over the long-term we see the London economy outperforming the EU."