London Luxury Homes Lure Hedge Fund Cash as Banks Shy Away
(Bloomberg) -- Developers like building luxury London homes. Their bankers would rather they didn't.
Traditional lenders are charging more for loans or declining to offer money at all after a boom in prime properties ended and left builders with a record number of homes without buyers. So hedge funds and private equity firms are moving in to fill the vacuum.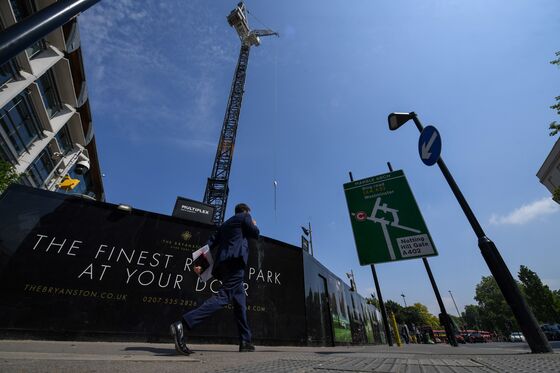 "Bank risk appetite is almost non-existent at the moment," said Jonathan Paul, finance director at developer Almacantar SA, which received a 400 million-pound ($532 million) loan from a hedge fund to help finance the construction of luxury apartments overlooking London's Hyde Park. "Our discussions with banks indicated that they may have nervousness about certain aspects of the residential market and certain areas."
The dynamic has shifted for luxury homes in London, a market that acts as a barometer of what's going on globally rather than just in Britain.
The value of luxury homes in the best districts have fallen about 17 percent since the peak in September 2014. Tax increases for landlords and owners of second homes deterred overseas buyers who had been willing to pay prices Londoners couldn't afford just as developers began construction of a record number of new residential properties. The weaker pound following the U.K.'s decision to exit the European Union hasn't tempted foreign landlords back into the market in large numbers.
"The prime London residential property is largely a product aimed at international buyers, so it can be volatile," said Peter Cosmetatos, chief executive officer at the Commercial Real Estate Finance Council Europe, a trade group. Banks "are probably wise to focus more of their attention on domestic housing supply," he said.
There were 17,000 prime apartments under construction in London that have yet to find buyers at the end of last year, according to a report by researcher Molior London seen by Bloomberg News.
That supply is largely concentrated in a few areas where developers have been most active, such as the stretch of land on the south bank of the River Thames running from Vauxhall through Nine Elms and Battersea, where more than 20,000 homes are planned.
LaSalle Investment Management Inc, which financed several London luxury developments, decided in 2016 to stick to lower value properties that are more affordable to domestic buyers.
At the top end, "sales velocity seemed to be slowing and the sheer number of development proposals on our desk at that time was in itself a sign," Amy Aznar, the company's head of debt and special situations said. "I remember grabbing my team and saying: 'Let's have a reality check here'."
Two backers of the Battersea Power Station project, which includes apartments, are sounding out banks for a loan of about 1.5 billion pounds for the commercial elements of the building, people with knowledge of the matter said earlier this week. The company behind the wider development was on course to achieve less than half of its original profit target, Bloomberg News reported last year.
"We made the conscious decision a few years ago not to do anything in Nine Elms," said Gary Dobson, head of Structured Property Finance at Investec Bank Plc which continues to finance some luxury apartment projects in other parts of London, such as the Stage development in Shoreditch. "It's absolutely bonkers what's gone on there. There is going to be loads of oversupply."
Despite the fall in values, there are few signs that developers are getting into financial trouble. But adjusting to the new market isn't easy for some.
Smaller properties, for example, are becoming more popular with developers because they tend to be easier to sell. The problem is that some companies paid so much for plots in 2014 that the projects are only viable as luxury homes, according to Faisal Durrani, head of research at broker Cluttons.
"We have even seen developments where the entire financial viability of the project rests on the sale of the penthouse," he said.
As ever, where there's risk, there's money to be made. For those willing to lend with fewer strings attached, the credit can be highly profitable.
Hedge fund TCI Fund Management agreed to give Almacantar a five-year loan to pay for the development of an office block and 54 apartments in Marble Arch that will overlook Hyde Park. The interest is 8.5 percentage points above the benchmark rate, according to a filing. By comparison, landlord Grainger Plc last month sold 350 million pounds of bonds due in 2028 that pay holders about 3.4 percent a year.
"We went with TCI because the decision making is instant, they don't go back to committee, they are very covenant light," Paul at Almacantar said. "You don't have to worry about authorizations and permissions and the risk of breaching covenants on a regular basis."
While there's no official statistics on lending to prime developments in London, data compiled by Cass Business School shows non-bank lenders (excluding insurers) grew new lending to U.K. residential development last year to 1.1 billion pounds, 8 percent higher than a year earlier.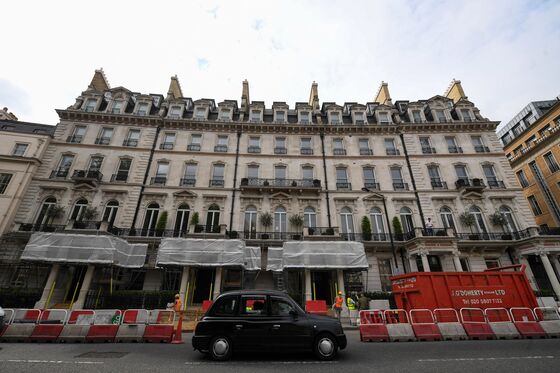 Earlier this year, Lotus Capital Partners LLC arranged a 170-million-pound loan by Apollo Global Management for a dozen apartments on Grosvenor Crescent in London's Belgravia district.
The cost of mezzanine finance -- a type of subordinated debt popular in the real estate business -- has risen as much as three percentage points over the past three years, according to Lotus Capital founder Faisal Ashraf. Banks meanwhile are clubbing together on some loans to reduce risk, he said.
Some of those advancing credit had originally hoped to buy completed or part-completed projects from developers willing to offload them at big discounts, something that hasn't happened as much as expected, said Justin Gaze, head of residential development land at broker Knight Frank said.
Crosstree Real Estate Partners, the property investor backed by Swiss billionaire Ernesto Bertarelli, and Cheyne Capital provided 120 million pounds of finance for the development of 25 luxury homes on Cavendish Square, one block east of Regent Street.
"We saw an opportunity to help," said Nick Lyle, a co-founder of Crosstree. "There's rightly been a lot of talk about weakening sentiment. But that said, for the right product, in the right place, with the right developer there are still good prices being achieved."
(This is the second in a series of stories on the outlook for London's housing market as it runs out of steam after almost a decade of growth.)