London Judge Orders Baring Vostok Opponents to Court
A U.K. court ordered two Russian businessmen locked in conflict with a prominent American investor in Moscow to participate in a June hearing in London.
Baring Vostok Capital Partners, a major foreign investor and private-equity fund in Russia, can bring a contempt complaint against Artem Avetisyan and Sherzod Yusupov in a dispute over the ownership of a local bank, according to a copy of the Feb. 10 ruling by High Court judge Nigel Teare.
The ruling means the pair could face prison time in the U.K., even as Baring Vostok founder Michael Calvey and several of his associates are under house arrest, awaiting trial in Moscow.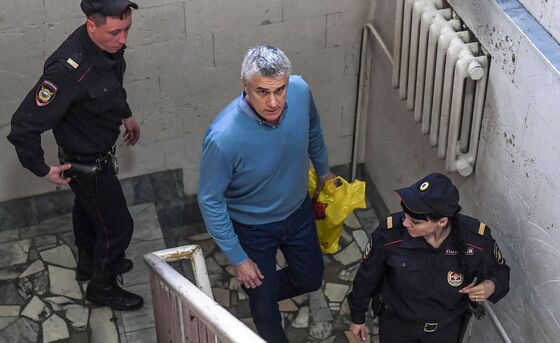 The judge said it could be argued that Yusupov was a de facto director of Finvision, and set a hearing in June that involves him and Avetisyan, the owner of Finvision. That company is at the heart of Baring Vostok's accusations that there were violations of a non-litigation injunction that would have prevented legal action in Russia. People found in contempt of court can face fines, asset seizures or imprisonment.
"I assume this is nothing more than an attempt to put pressure on me," Yusupov said by text message.
A spokeswoman for Avetisyan's Finvision said there were "no grounds" for the accusations. "We expect that he will fully prove that he is right," the spokeswoman said in a statement.
The conflict began when Calvey's fund sued Finvision in London over alleged asset stripping from a bank that merged with Baring Vostok's Vostochny Bank in 2017. Finvision gained control over the combined bank last summer after a Russian court ordered Baring to sell a 10% stake.
During the dispute, Calvey and several colleagues were jailed in February last year in Moscow on charges of defrauding Vostochny, allegations they dismiss.
Avetisyan, who is a Kremlin adviser, said he's not a party to the criminal case, which was opened after his partner Yusupov filed a complaint.
Calvey was jailed for two months during the Russian investigation before being moved to house arrest following widespread shock in the Russian business community. His partner Philippe Delpal also spent months in jail, while three Russian colleagues were released under house arrest on Wednesday after a year behind bars.