U.K. Stocks Slide as Political Turmoil Heightens Brexit Worries
U.K. stocks declined on growing concern about the prospect of a no-deal Brexit after the British government sought to suspend Parliament.
The FTSE 100 Index dropped 0.4% as of 1:12 p.m. in London, erasing an earlier gain, as the pound pared some losses while homebuilders slipped. The gauge of megacaps has moved inversely to the currency in recent years. The more domestic-focused FTSE 250 Index lost 1%. Sterling slid on news that Prime Minister Boris Johnson plans to suspend Parliament for almost five weeks ahead of the Brexit deadline, triggering a backlash from lawmakers who want to block a no-deal exit.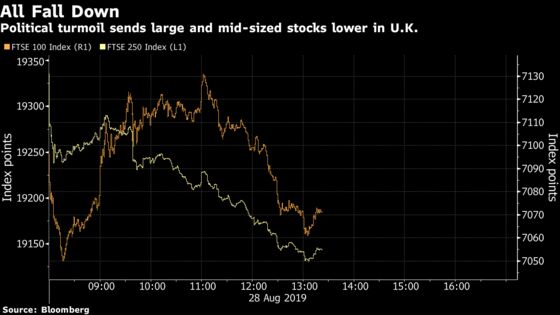 Housebuilders Taylor Wimpey Plc and Barratt Developments Plc were the worst performers on the FTSE 100, while gains in oil stocks amid higher crude prices limited the gauge's losses. Irish stocks also slid, with the benchmark ISEQ Index down 1.5%.
"The idea of taking Parliament out of the equation around Brexit decisions is not going to be acceptable to anyone," said Eric Moore, a fund manager at Miton Group. "What it means as a portfolio manager is pretty much a nightmare, because I don't think you can sensibly try and position the portfolio one way or the other."
The plan to suspend Parliament further clouds the outlook for Brexit ahead of the Oct. 31 deadline to leave the European Union, with strategists earlier this month recommending steering clear of U.K. equities until there's more political clarity.