London Metal Exchange Intervenes to Calm the Copper Market
(Bloomberg) -- The London Metal Exchange stepped in to try to restore order to the copper market, launching an inquiry into recent trading and announcing emergency changes to its rules.
The moves come after a surge in orders to withdraw metal from the bourse's warehouse network drove available inventories to a 47-year low last week, causing wild swings in the benchmark price for one of the world's key commodities. With supplies dwindling, spot prices spiked to an all-time high on Monday, with short-term contracts trading at a record premium to futures.
The LME emailed members late on Tuesday asking for details about client activity in copper warrants going back to early August, according to people familiar with the matter. The email asked for the business reason for members' and their clients' transactions, the people said.
That came shortly after the exchange announced a set of rule changes that included limits on the nearest-term copper spreads and allowances for holders of some short positions to avoid delivery.
As the world's largest futures exchange for industrial metals and the operator of a global warehouse network, the LME plays a key role in maintaining an orderly market during periods of supply stress. The additional actions announced Tuesday have been ordered by a rarely used special committee, which has the power to impose controls to limit the impact of shortages on buyers.
The changes will take immediate effect, "to maintain continued market orderliness and avoid the development of an undesirable situation," the LME said. They are intended to be temporary and will be reviewed as appropriate by the special committee.
The new measures come after the drop in inventories on the LME drove the spread between spot and futures contracts to record highs, in a condition known as backwardation that's a hallmark feature of a supply squeeze. 
On Friday, LME copper contracts expiring in one business day's time traded at a $175 premium to those maturing a day later, smashing previous records in data going back to 1998, while the spread between spot and three-month futures contracts also reached a record $1,103.50 on Monday.
Available, or on-warrant, copper stockpiles rose modestly on Wednesday, while the cash-to-three-month spread closed on Tuesday at $338 a ton -- still the second-largest backwardation ever seen in the London market.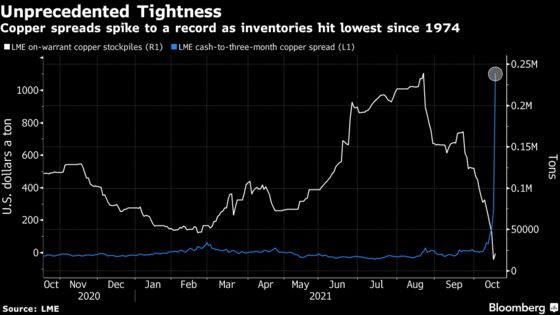 Effective immediately, the LME will impose a limit on the so-called tom/next backwardation, and will adjust its rules to avoid deterring market participants with a dominant holding of inventories and spot contracts from lending their positions back to buyers. 
As a last resort, any companies with a short position who aren't able to deliver metal against it or buy their position back at the capped backwardation rate may have their positions rolled forward by the exchange.