Lithium Giant Sees Strong Prices for Longer Amid Ramp-Up Issues
(Bloomberg) -- Unexpected difficulties to expand production by one of the world's top lithium miners come with a silver lining -- stronger than expected prices.
Santiago-based Soc. Quimica y Minera de Chile SA expects lithium prices to remain firm in the fourth quarter at about similar levels to earlier this year because of strong demand and supply issues. In September, SQM Chief Executive Officer Patricio de Solminihac was expecting prices for the second half of the year to be lower than for the first six months.
"The price that we have seen is a result of very strong demand, stronger than we originally anticipated, and also there has been a delay in some of the production promises," De Solminihac told analysts during a conference call on Thursday. "We are working with our customers for the closure of contracts for next year, and so we don't know yet what the direction of prices will be next year."
The world's second-largest producer of lithium, a mineral essential to power electric vehicle batteries, reported third-quarter revenue and net income that missed analysts' estimates as unexpected difficulties in ramping up an expansion project hit sales volumes. The delay will likely impact fourth-quarter volumes as well, with the company now expecting to sell about 45,000 tons of lithium in 2018, compared with the 55,000-ton estimate earlier this year.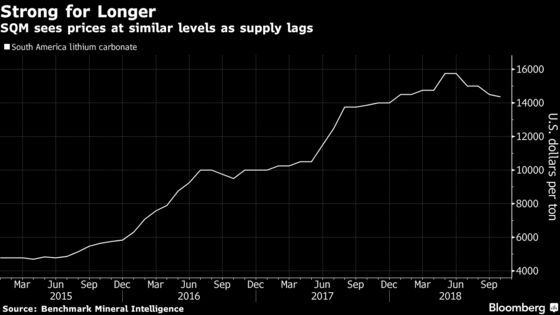 Prices for lithium carbonate in South America came down to $14,375 per ton in October from an all-time high of $15,750 per ton in May and June, according to a monthly report by Benchmark Mineral Intelligence. Demand growth is expected to be at around 25 percent this year and, with limited new supply entering the market, prices could remain at similar levels for longer, De Solminihac said on the call.
The Chilean producer will still reach targeted capacity of 70,000 tons per year in the near term, he said, without providing a specific time frame. Difficulties in ramping up the project to expand capacity in its operations in the Atacama region, in northern Chile, are due to the complexities of doing so while the processing plant continues to work at full capacity, he said. Another project to expand lithium-hydroxide capacity in Chile is advancing well just as demand for this more refined lithium product picks up, he said.