Lithium Firms Take a Near Billion-Dollar Hit as Umicore Warns
(Bloomberg) -- The impact from a Belgian materials company's profit warning has now spread from the European car market to the Western hemisphere.
The top three lithium producers lost almost a billion dollars in combined market-value after Umicore SA, a producer of metal products and catalysts used in vehicles, among other uses, warned that it will miss analysts' profit estimates due to slowing slowing demand for electric vehicles in China and South Korea.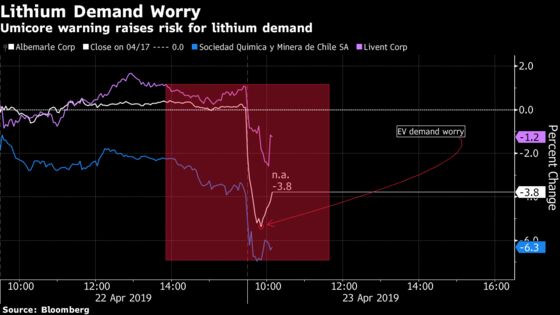 Lithium giant Albemarle Corp.'s shares took the largest hit, down as much as 5.5 percent as it counts Umicore among its top three customers. Peer Livent Corp. declined 3.8 percent and Sociedad Quimica y Minera de Chile SA's ADRs tumbled as much as 3.6 percent. The combined loss at its worst reached nearly $900 million in New York trading.
Given the size and reach of Umicore, the outlook offers a reliable read-through to the broader electric-vehicles and lithium sectors, Vertical Research Group analyst James Bardowski wrote in a note. He reiterated his negative bias on Albemarle, Sociedad Quimica y Minera and the greater lithium sector.
News concerning lower Chinese electric-car demand should not come as a surprise, as China said on March 26 that it was cutting electric-car subsidies, prompting investors concerns over future demand in the country. But heading into first quarter results, this latest warning will serve to bolster the risk and put earnings for lithium companies under greater scrutiny.
Livent will be among the first companies to report on May 7, Albemarle will report on May 8 and Sociedad Quimica y Minera on May 22.