A Listless VIX Says This Sell-Off Reeks of 'Dumb Money'
(Bloomberg) -- Stocks are chaotic. The reaction in markets for equity volatility is anything but.
Pravit Chintawongvanich, equity derivatives strategist at Wells Fargo Securities, flags that measures of short- and longer-term protection against haywire markets are showing no signs of overreacting. Those include the Cboe Volatility Index, which rises and falls along with demand for options.
"The dumb money is saying the economy is headed south," he said. "The smart money says, 'This too shall pass.'"
Call it complacency. Or call it a reasonable bet that the chaos is temporary. Whatever the case, it's a far cry from previous bouts of market angst. During the February 2018 explosion, the VIX jumped much more than would ordinarily be warranted by the frenzy in the S&P 500.
Right now, the "fear gauge" is tracking the jitters in stocks fairly faithfully relative to history.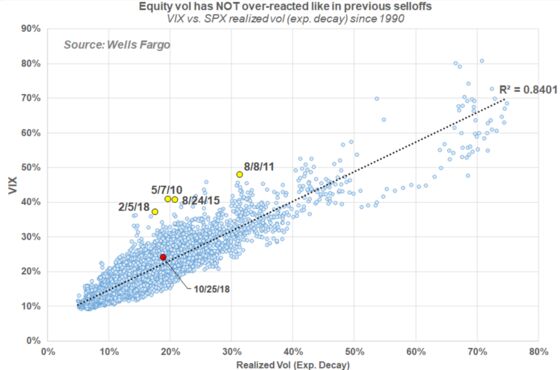 Both credit -- which has shown immense resilience amid the tumult in stocks -- and derivatives markets count as smart money here, said Chintawongvanich. And if traders were really worried about an economic slowdown and protracted decline in stocks, longer-term volatility would be well-bid. "But we've seen almost nothing yet," he adds.
That's what happened during sell-offs in 2011 and 2015, when six-month implied volatility ramped higher.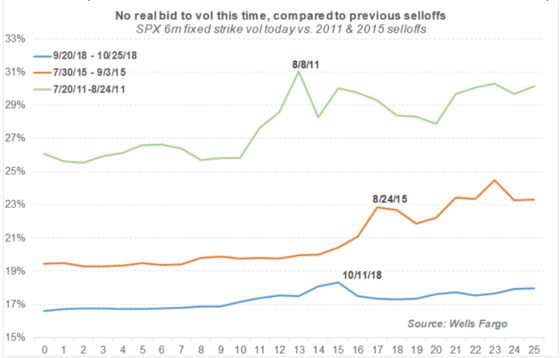 "The equity volatility market is disagreeing with the equity cash market," he concluded. "But vol does not look rich here, only fair."