Turkish Lira's Gains Fizzle Out as Focus Shifts to Policy
(Bloomberg) -- The gains in Turkey's lira that followed Recep Tayyip Erdogan's election victory fizzled out as investors worried that the president's sweeping new powers may stymie efforts to rein in inflation and the widening current-account deficit.
The currency slipped as much as 1 percent to 4.7233 per dollar in Istanbul after gaining more than 3 percent earlier. The country's main stock index lost as much as 0.9 percent after rallying 3.7 percent. The yield on the government's 10-year bonds climbed 58 basis points to 16.87 percent.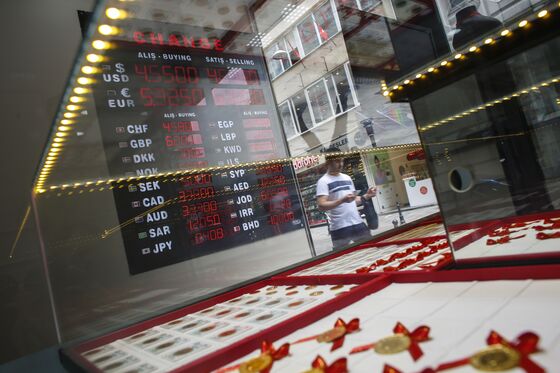 While markets initially rebounded as the election result removed the need for a potentially turbulent second-round vote, most analysts said the gains would be short-lived, citing concern over Erdogan's pledge to tame inflation by cutting interest rates, a view that runs counter to orthodox economic theory.
"Political stability is no panacea for the lira," Tatha Ghose, a senior emerging-markets economist at Commerzbank AG in London, wrote in a note. "The risks to the central bank and monetary policy have just multiplied."
Erdogan had 53 percent of the presidential vote to 31 percent for his closest challenger, Muharrem Ince of the secular Republican People's Party or CHP, with more than 99 percent of ballots counted, according to government news agency Anadolu. The country's electoral board hasn't published official results yet, but it confirmed that Erdogan won.
Turkish assets have been under pressure this year as Erdogan stood in the way of interest-rate increases that many investors said were necessary to cool an economy growing at an annual rate of more than 7 percent. While the central bank has raised interest rates by 500 basis points since April to counter any inflationary impact from the lira's 19 percent slide this year, Erdogan's drive to underpin the economy has left a question mark over the bank's independence.
Days before the vote, Erdogan urged his followers to support him so he can lower interest rates. In May, he promised to tighten his grip on monetary policy, triggering a selloff in Turkish markets.
"If a more sustainable economic policy is pursued, with tight monetary and fiscal outlooks and a stronger focus on inflation over growth, then the lira could correct a more significant portion of its very wide undervaluation," HSBC Bank Plc strategists including London-based Murat Toprak wrote in a note Sunday. The lira may strengthen to 4.40 per dollar following the vote, they forecast.
The lira has lost almost a fifth of its value this year, compounded by global skittishness toward emerging markets. It weakened to a record 4.9253 per dollar in May.
"Inflation has been accelerating with the weaker lira, while the country has a current-account deficit, and with the persistent weak sentiment toward emerging markets, the lira and Turkish assets will probably remain among the most vulnerable to any selloffs," said Takeshi Yokouchi, a senior fund manager at Daiwa SB Investments Ltd. in Tokyo.
Yokouchi said he is keeping an underweight position on Turkey in his portfolio.