Liquidity Risk in $1.2 Trillion of Bond Funds Exposed by Covid
(Bloomberg) -- The pandemic-triggered crash in global markets last year may have exposed a key vulnerability in the way more than $1 trillion of exchange-traded funds operate.
New research suggests the arbitrage system that bond ETFs rely on to keep their prices in line with their assets is significantly influenced by the leverage of the firms making the trades.
As chaos hit the market last March, the willingness of "authorized participants" -- intermediaries who can create or redeem shares in a fund -- to step in and close price gaps for bond ETFs was lower among more leveraged firms, according to findings from Claudio Raddatz, a visiting scholar with the International Monetary Fund.
Since so-called APs are not obligated to close the gap, this contributed to mispricings lasting longer for some funds.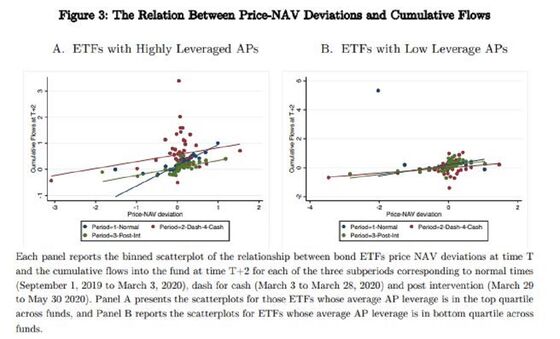 An "AP's leverage may limit their ability to engage in arbitrage trades during periods of market turmoil, when balance-sheet space is scarcer and costlier because of value-at-risk or other risk-management constraints, contributing to the persistence of price dislocations," Raddatz wrote in the paper, which was published last month.
It's a wonky but important point, with the U.S. alone now boasting almost $1.2 trillion of fixed-income exchange-traded funds.
Bond ETFs emerged from the March selloff with their reputations burnished, having long been dogged by fears surrounding the mismatched liquidity between easy-to-trade funds and hard-to-trade securities. Amid the volatility, they were seen to have been a vital shock absorber and to have provided a vehicle of price discovery as underlying assets seized up.
The research from Raddatz, a professor of finance and economics at the University of Chile, doesn't dispute those points. But it does highlight another process at work.
When demand for shares of an ETF is high, an AP can buy more of the fund's underlying assets and swap them for new shares to sell. When demand is low, the process works in reverse. In this way, the AP profits by closing any price gaps that emerge between the fund and the securities it tracks.
Crucially, the whole system relies on the willingness of the AP to act. Ordinarily, since they profit from the trade, that's a given. But in times of stress, things get less clear cut. Swapping ETF shares for some of the fund assets could mean receiving securities whose values are plummeting and which are difficult to sell, for instance.
Using filings from the U.S. Securities & Exchange Commission, market data and AP financial statements, Raddatz showed the strength of the arbitrage relationship weakened by 77% in bond ETFs tied to more leveraged APs, versus 64% for those tied to less leveraged firms. His data set included 371 funds linked to a total of 69 APs, with the "dash for cash" stress period designated as March 5 to March 31, 2020.
While having more APs helped during good times, it made little difference during the turmoil, Raddatz found. Meanwhile, having high leverage was less of a constraint for the APs of funds in more liquid parts of the market, like ETFs tracking Treasuries.
Raddatz also observed that weaker arbitrage was witnessed especially when high AP leverage combined with a prevalence of high-frequency traders.
"This is consistent with policy makers concerns about the resilience of liquidity provision by these types of market makers in periods of turmoil," he wrote. "In contrast, AP leverage seemed to have been less of a binding constraint during the dash-for-cash for APs that were ultimately related to a bank or bank holding company."
The findings are at odds with some earlier analysis of the Covid crash. In a publication last July, BlackRock Inc. noted that activity in the primary market -- where APs transact with fund issuers -- was elevated through March with broad participation. The evidence "should assuage concerns that ETFs rely too heavily on a limited number of institutions, or that APs step away during a crisis," a team including Samara Cohen wrote.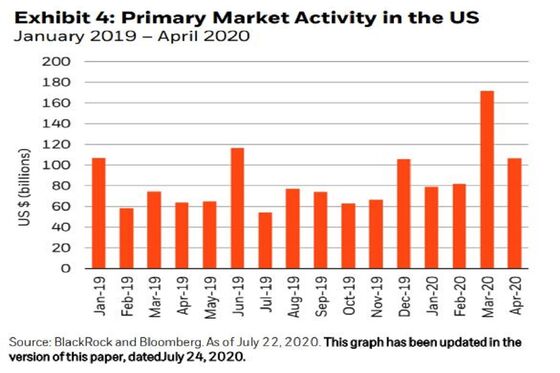 By looking at the balance sheet of each AP, Raddatz took a more granular approach. He suggests that future research would benefit from more detailed AP data to "pin down" the way limits to arbitrage work. He highlights how little is still understood about the way ETFs and APs interact.
"What seems crucial during distress is whether the average AP with which an ETF has a relationship has sufficient balance-sheet space" to conduct arbitrage, he wrote.