Libor's Survival Beyond 2021 Death Date Becomes Hot New Wager
(Bloomberg) -- Don't count Libor out just yet.
From traders scurrying to exit bets on a replacement for the benchmark, to analysts at Wells Fargo giving good odds it'll keep going, there's newfound uncertainty in markets over whether the beleaguered index will disappear at the end of next year like it was supposed to.
Eurodollar futures -- among the world's largest interest-rate derivative markets -- sprang to life Wednesday after Libor's administrator and U.K. financial regulators opened the door for the dollar version of the index to survive its previous Dec. 31, 2021, expiration date. The futures contracts reference three-month dollar Libor, set daily by ICE Benchmark Administration but which had been slated for extinction by global regulators.
The market priced in a longer timeline for the interest rate, and the move may have further to run. For dollar Libor, "the chance has increased significantly that it will survive past 2021," Wells Fargo strategists Zachary Griffiths and Mike Schumacher said in a note. "We doubt that market prices fully reflect this likelihood," and expect forward one- and three-month rates "to continue rising for early 2022 vs late 2021 dates."
A series of bets set up to exploit the replacement of Libor got wiped out Wednesday. Traders rushed to buy March 2022 Libor contracts, driving down their spread over December 2021 equivalents, which had been steadily widening on expectations that rates would be higher after the benchmark switchover. The March contract was the most actively traded of the day on volumes almost four times higher than Tuesday, and a drop in its open interest suggested positions were being unwound.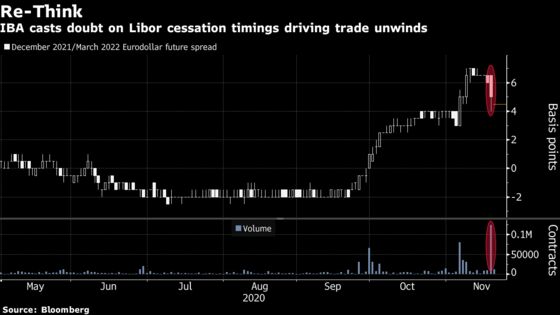 A combined daily volume of 1.2 million futures across December 2021 as well as March and June 2022 contracts was only topped one other day this year on March 2. The surge in volume represented both outright buying and selling of the contracts and spread among the three tenors.
ICE Benchmark Administration Limited said it intends to cease publication of most major Libor benchmarks at the end of 2021, with the exception of the dollar variety where discussions are still continuing with key stakeholders. That was enough to raise the possibility among market participants that the replacement of dollar Libor may be on a different timeline.
The move toward Libor alternatives, such as the Secured Overnight Financing Rate, is a response to concerns about the benchmark, including revelations about manipulation in the wake of the financial crisis. For more than three years, global policy makers have been developing new benchmarks.
The Federal Reserve Bank of New York, meanwhile, on Thursday tweeted a reiteration of its support for a "smooth transition for consumers, businesses and market participants" away from Libor in dollar-related markets, noting that the clock is ticking for the beleaguered benchmark.
Traders had been using spread trades to bet on expected rates moves around the transition period -- buying or selling one contract against another to capture relative changes between the two, rather than directional moves.
While it's possible that market watchers have read too much into Wednesday's statement, the ambiguity over a timeline suggests Libor fixings for early 2022 may take place under the current methodology, instead of the incoming method of SOFR plus a spread.
This is also reflected in the narrowing of the difference in premiums between the December 2021 and March 2022 contracts against the overnight rate or FRA/OIS.
March 2022 FRA/OIS, which is determined by expectations of where ISDA's fallback rate will be, narrowed as much as 1.7 basis points Wednesday. That came as traders bet the continuation of the Libor benchmark will push the premium toward December 2021 FRA/OIS, which is based on Libor expectations and is around six basis points lower.