Libor's Erratic Behavior Down to Mortgage Flows: Liquidity Watch
(Bloomberg) -- The zigzagging path of dollar Libor over the past week has been at odds with market pricing for central bank policy to remain unchanged. More tremors may be ahead.
The three-month London interbank offered rate, a key benchmark for lending, has kept a downward trend, but it hasn't been a smooth ride. Monday's fixing at 0.23375% was the lowest since 2014, and the rate's 1.6-basis-point drop was the largest in a month. It rebounded even more sharply the following day. Yet the front-month Eurodollar contract -- used to bet on the path of Libor -- held steady at 99.75, reflecting a conviction that the Federal Reserve is on hold.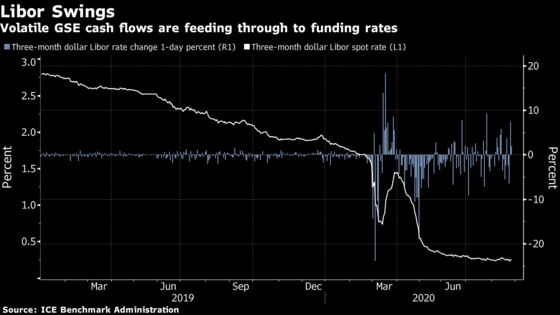 The recent noise surrounding key funding rates can be partly attributed to U.S. housing finance agencies "putting cash to work," according to BMO Capital Markets rates strategists Jon Hill and Benjamin Jeffery.
Government-sponsored enterprises such as Fannie Mae typically receives mortgage payments around the 17th of any given month, then park these in repurchase markets -- where securities are pledged for short-term cash -- to earn interest. When principal and interest payments to bondholders come due, usually around the 24th, they pull them out.
These P&I float periods are not the only piece in the puzzle of the recent volatility in three-month Libor rates, according to BMO's strategists.
They say the knock-on effect of the recent decline in repo rates has been a crowding-out of cash lenders, whose reallocation of funds into the higher-paying unsecured market has in turn weighed on Libor.
Funding-market volatility could return during these float periods in the months ahead. The imminent expiry of a GSE policy from April, which limited the advance payments required on loans in forbearance, has created uncertainty around the size of likely cash flows.
In the meantime, key rates have settled somewhat in the secured market. Thursday's three-month Libor fixing dropped back almost a full basis point to 0.24600%, after rising Wednesday.