Libor's Death Has One Debt Guru Horrified Asia Isn't Ready
When Andrew Ferguson talks to financial professionals across Asia about the looming demise of Libor, he's often shocked at how little they seem to know about one of the most far-reaching changes to the global financial system in decades.
Call them the Libor procrastinators. With less than two years to go before authorities are due to phase out the scandal-plagued interest rate underpinning several-hundred trillion dollars of debt and derivatives around the world, concern is mounting that some lenders, borrowers and traders are woefully unprepared.
Asia has emerged as a particular source of anxiety for credit-market experts, who say the region's patchwork of regulators and tendency to take cues from the West have bred complacency.
At stake is the smooth functioning of debt markets that keep the world's economic growth engine humming. Asian companies have at least $675 billion of outstanding Libor-linked loans and bonds, about two-thirds of which mature after the interest rate is due to expire at the end of next year, according to data compiled by Bloomberg. If the region's financial industry isn't ready for the transition, Asian businesses may find it more difficult to get the credit they need to expand.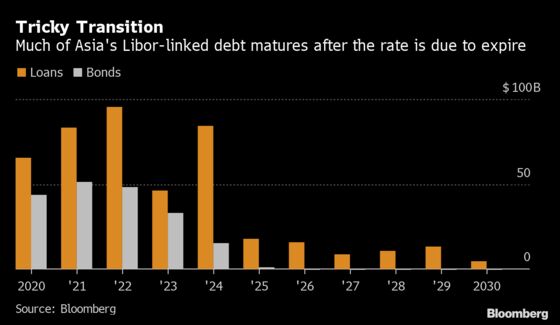 The London interbank offered rate has been so entwined with global markets for so long that it has sometimes been called the world's most important number.
But regulators are moving away from Libor after transactions underlying it dried up and prosecutors found that banks around the world had manipulated the benchmark for their own gain. In 2017, U.K. officials signaled an end to the rate, saying they'll stop compelling lenders to submit quotes after 2021.
Replacing Libor poses significant challenges for even the most diligent financial institutions. Thousands of contracts have to be reworked, trading systems overhauled and alternative rates refined. Banks including Goldman Sachs Group Inc. and Wells Fargo & Co. have large teams of people dedicated to making sure their firms are prepared.
The same can't be said for some of their counterparts in Asia.
"When I speak at conferences around the region, I'm horrified that some people don't even know what SOFR is or Sonia is," Ferguson says, referring to two of the interest rates that will likely take Libor's place in contracts ranging from mortgages to multibillion-dollar corporate loans. The countdown to the 2021 transition is "like being pushed off a cliff with a parachute and not knowing if the parachute is going to open."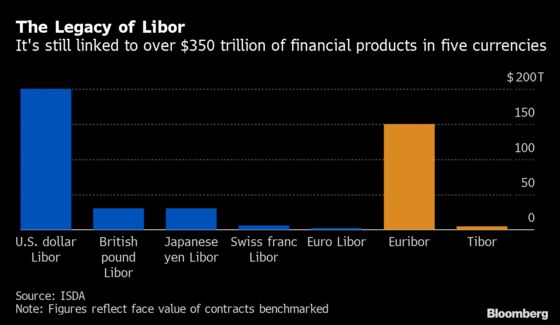 In the U.S. and Europe, some banks and borrowers have already begun migrating toward Libor successors. While activity is still nascent, last year companies in the two markets sold at least $240 billion of bonds linked to SOFR (Secured Overnight Financing Rate), the U.S. Federal Reserve's preferred replacement for dollar Libor. Several U.K. firms, including public-transport operator National Express Group, have started issuing loans linked to Sonia (Sterling Overnight Index Average).
In Asia, only one company has issued a bond tied to SOFR, data compiled by Bloomberg show. The $350 million note from Bank of China Ltd.'s Macau unit received lukewarm demand when it was sold in October, and early trading was hampered by confusion among some market participants over how to price the debt. "Quite a few Asian investors have yet to dip their toes into SOFR-linked bonds," says Thomas Wu, head of Asia fixed income at Pictet Wealth Management, who bought the note in secondary trading.
"European and U.S. investors are definitely more familiar and better prepared for these kind of notes," says Ajeet Choudhary, executive director for Asia fixed income at J.P. Morgan Private Bank. "We need to see more SOFR-linked issuance so that investors gain a better understanding of the pricing."
Asia's financial industry is lagging behind in part because it's waiting for the U.S. and Europe to solve teething problems around Libor's replacements. Some firms are betting there's still plenty of time to prepare, and that Libor may live beyond 2021 if international lenders and regulators decide markets aren't ready for it to go away. Another contributing factor: Asia lacks a powerful, region-wide regulator to make sure banks are focused on the transition.
"Awareness is just greater in the U.S. and Europe, especially when it comes to knowledge about the Libor phase-out among some front-office staff," says Ian Baggott, head of capital markets for Asia at Rabobank and part of a global Libor working group within the firm.
To be sure, Asia's regulators aren't sitting idly by. Monetary authorities in Hong Kong, Singapore and Australia have all encouraged banks in recent months to prepare for the Libor transition. Policy makers around the region have also proposed governance changes to local benchmark interest rates to make them more manipulation-resistant.
With so many jurisdictions across Asia, one challenge for regulators is making sure they coordinate with each other on the transition. "Every market is at a different stage, but all central banks need to take a leading role, quickly decide the path forward and adopt an implementation time line," says Ashok Das, Singapore-based head of local markets trading and solutions for Asia Pacific at Deutsche Bank AG.
According to Ferguson, that's not happening fast enough.
"The regulators all along have said that the alternative to Libor and the transition should be 'market-driven' -- and that in fact has been an impediment," he says. "They need to be much more involved and help out with the really difficult problems. This year is going to be the critical year to get things organized."