Libor-OIS Has Room to Run If First-Quarter Autopsy Is Any Guide
(Bloomberg) -- The renewed ascent of Libor-OIS may just be getting started, according to a Credit Suisse Group AG analysis based on a "morbidity review" of the key short-term dollar-financing indicator's five-month surge starting in late 2017.
Zoltan Pozsar identified six catalysts behind the earlier run-up in the spread between the London interbank offered rate for dollars and the overnight index swap rate. Several of these drivers are "live again," the former U.S. Treasury adviser wrote in a Nov. 27 note to clients. These forces could cause the gap to widen to as much as 50 basis points by year-end, from about 34 basis points now, he predicts.
The key forces in play this time around are the surcharges imposed on U.S. banks that are defined as global systemically important institutions; the recent increase in Treasury-bill supply; and limited expectations for prime money-market fund inflows through the end of the year, Pozsar wrote. Once the spread approaches 50 basis points, crossover investors such as intermediate and unconstrained bond funds should provide a backstop bid.
"Taken together, G-SIB surcharges, bill supply and flat prime fund assets under management between now and year-end are likely to drive three-month Libor-OIS," Pozsar wrote.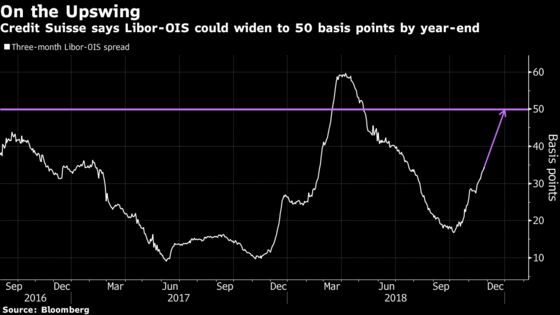 The Libor-OIS spread reached widest since July on Monday. The gap reached 60 basis points earlier this year, fueled by a surge in T-bill supply and repatriation concerns related to changes in U.S. tax policy. Funding pressures receded as the government cut issuance to offset income-tax receipts and assets flooded into prime funds, which boosted demand for commercial paper.
Pozsar said his outlook could be derailed if there's either a large correction or rally in U.S. stocks before year-end. That's because securities lenders' cash collateral flows and corporate treasurers' portfolio decisions are both driven by how stocks perform, and therefore have an impact on Libor-OIS.
"Stock market dynamics are now relevant for short-term interest-rate markets -- they were not relevant before," Pozsar said. They "constitute a change in the rules of the game."