Leveraged-Loan Launches Boom Thanks to Repricings, M&A Deals
(Bloomberg) -- Borrowers piled into the U.S. leveraged loan market last month despite equity and bond volatility. October was the busiest month for loan launches since May.
More than $73.4 billion of institutional loans launched in October, up from $40.6 billion in September. While an uptick in new money deals played a key role in fueling growth, repricings and refinancings accounted for nearly half the activity in the primary market.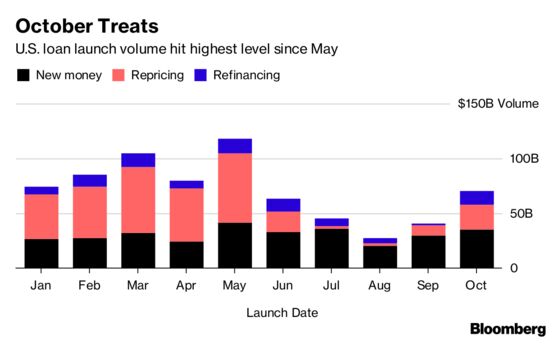 New money launches -- those backing M&A, buyouts and dividend payments -- amounted to $36.3 billion, the most since July, on the back of financings for Sedgwick ($2.3 billion), Gray Television ($2.15 billion) and GFL Environmental ($1.71 billion)

This is up from $24.1 billion in October 2017

Repricing volume rose to $22.4 billion in October, up from a lackluster showing of $9.2 billion in September

Down from $43.9 billion in October 2017

Demand for leveraged loans remained strong, with $9.6 billion of new CLO issuance and inflows to mutual funds for all but one week in October
Towards the end of the month, however, leveraged loans started to feel the downdraft from volatility in equities and high-yield bonds with secondary prices falling and more deals flexing pricing up in the primary market
Demand is expected to remain strong, with $111 billion of new CLOs already priced this year and Wells Fargo forecasting $125 billion of new issuance by the end of 2018

With the pipeline of mandated U.S. institutional loans tracked by Bloomberg shrinking to about $15 billion from $21 billion a month ago, there may not be enough new loan supply to satiate all the demand by CLO managers and other investors for the rest of the year

Fitch Ratings is projecting a leveraged loan default rate of 1.5% by the end of next year, which is less than the 2% anticipated at the end of 2018