Leveraged Lenders Still Hungry After Loan Supply Dips in October
(Bloomberg) -- Leveraged loan issuance was low in October, but the volume of criticism leveled at the market swelled to a post-crisis high.
The primary market lull in Europe left fund managers hoping -- without much conviction -- for another surge of deals to satisfy powerful demand for paper before year-end. October did little to feed the bid: issuance of 4.1 billion euros ($3.6 billion) made it the slowest month of 2018.
While lenders waited for more, a crowd of anxious regulators and central bankers pointed out risks in the expansion of the market, as well as in rising debt multiples and weakening covenant protection.
Companies have raised 71.4 billion euros in European leveraged loans this year. A late rally in issuance might emerge if arrangers win LBO financing mandates and move fast to de-risk. If not, it's possible that the full-year tally will fall short of 2017's 77.2 billion euro total.
But the market is certainly growing. At 54.5 billion euros, M&A leveraged loan financing is well ahead of all post-crisis years, and the first-quarter pipeline looks strong. Issuance has been aided by borrowers preferring loans over high-yield this year in light of the greater volatility in the bond market.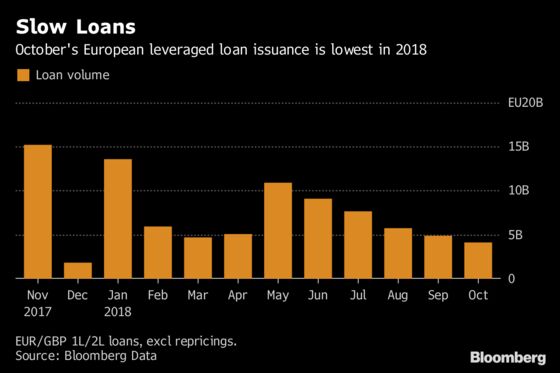 The bid for loans is underpinned by continued growth in Europe's CLO market. October brought CLO issuance of 2.4 billion euros to take the year's tally to nearly 24 billion euros, racing ahead of the previous year.
October's borrowers contributed 1.9 billion euros to that M&A financing total. This came not from big buyouts, which have dominated much of the year, but via add-on transactions.
During the month, companies including Biogroup-LCD SCM, Vacalians Holding SAS and Holding Socotec SAS raised small sums of additional debt, mainly to refinance lines drawn down to pay for bolt-on acquisitions or to fund M&A directly.
Lenders proved eager to lend to familiar credits so most borrowers raised new debt at or close to par, in contrast with the second quarter when some companies had to offer deep discounts to make new paper attractive.
Two borrowers went further, illustrating the strength of demand by pricing at a premium to par.
Hearing aid firm Sivantos Widex printed a 100 million euro first-lien add-on at 100.75 percent of par. Lenders were willing to pay up to get their hands on paper that carries what now looks like rich pricing compared to newer single B credits. The new debt pays nothing initially under the ticking fee, but once funded will pay 400 basis points over Euribor for at least six months.
VFS Global followed suit with a 100.25 price on its add-on loan. The travel services firm pays a margin of 325 basis points over Euribor on its euro term loan.
By comparison the average all-in spread for single-B deals fell to 388 basis points in the three months to Oct. 31, from 426 basis points in the third quarter.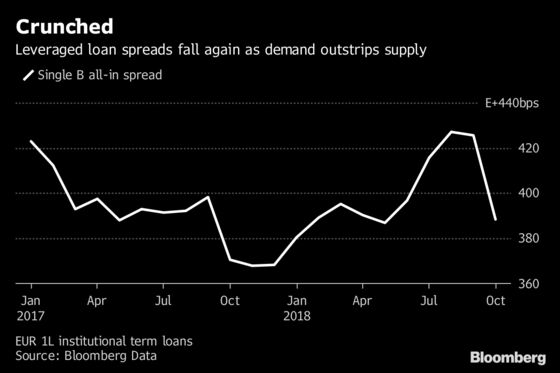 As well as being the slowest month of the year for new issuance, October was the busiest for repricings. Five borrowers cut costs on just over 4.3 billion euros of loans, including three cross-border issuers taking advantage of heated conditions in both regions.
Investors expect the flow of repricing to continue into the first quarter, picking up pace as call protection rolls off richly priced deals from 2018. Only 14.4 billion euros of loans have repriced so far this year, compared with 77.5 billion euros last year.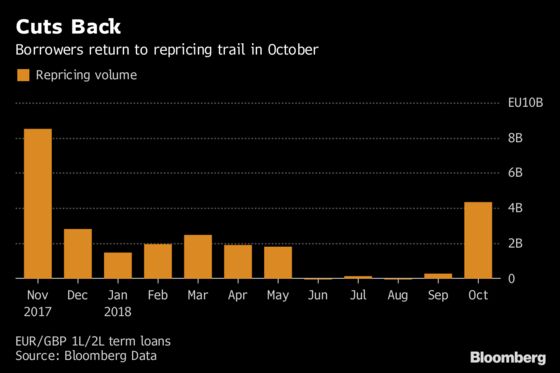 Regulators' fears that leveraged loans are pushing too much risk into the financial system sits oddly alongside the fact that inflows into the product are strong enough to allow par-plus add-ons and repricings. It would appear that investors do not see the same risks or have decided to ignore them in the hunt for yield.
But it's not the case that the entire investor base is marching forward in step.
A new loan for Thor Industries Inc. became the first deal since August to flex wider. And although there was enough demand in Europe to upsize the euro denominated tranche, numerous managers were said to have turned the credit down. In the face of the cyclicality of the industry and the age of the business cycle, even Thor's double-B rating didn't sway them.
More broadly, some fund managers say they are finding illiquid and unrated loans increasingly unappealing, and are also unhappy with cyclical businesses raising add-ons that keep leverage high.
Year to date, European leveraged loans have returned 2.72 percent, based on the S&P ELLI, and 0.39 percent in October alone.
(Ruth McGavin is a leveraged finance strategist who writes for Bloomberg. The observations she makes are her own and not intended as investment advice.)