Leveraged Debt Markets Wait for Private Equity's $1.2 Trillion
(Bloomberg) -- There are 1.2 trillion reasons for U.S. junk bond and leveraged loan issuance to stay relatively strong this year.
That's how much money private equity firms globally had available to deploy as of the end of last year, a record level that's 17 percent above 2017 figures, according to Preqin. The buyouts they'll need to finance should keep U.S. issuance volume from plunging this year.
"It all depends on what the private equity shops do," said Randall Parrish, senior high-yield portfolio manager at Voya Investment Management in Atlanta. "They have raised enough capital that there has to be pressure on them to deploy."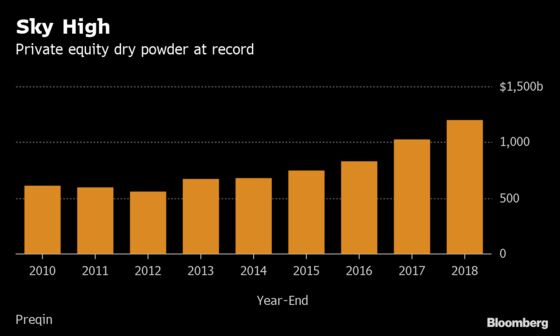 It's easy to lose sight of that fact amid recent market slowness. With the Federal Reserve on hold with rate hikes, investors have lost some of their passion for floating-rate debt offerings. New U.S. leveraged loan sales have fallen nearly 20 percent to $45.7 billion through Feb. 20, according to data compiled by Bloomberg. High-yield bond sales have also declined, down about 7 percent to $35.5 billion.
Figuring out how much issuance will come in 2019 is a critical question for loan and bond investors. The recent lack of supply has helped high-yield bonds gain about 5.5% this year, a record start to the year, and leveraged loans pick up to 3.42%. And light supply could give private equity more negotiating power in deals that do come to market, allowing them to argue for looser terms, for example.
The near-term pipeline for issuance still looks relatively weak. There's a $10 billion financing expected in the coming weeks for the buyout of Johnson Controls International Plc's car-battery unit. But most of the biggest acquisition-related offerings in the works at the start of the year have already been sold, including CommScope Holding Co.'s $7 billion deal and TransDigm Group Inc.'s $4.55 billion of issuances.
Read More in the Credit Brief: Preparing for the Credit Cycle's End
Acquisition volume, an important source of issuance, was hurt by big fluctuations in stock and bond markets starting in October. That volatility makes it hard to determine exactly how much assets will be worth and how high financing costs will be at any given time. Fourth-quarter merger and acquisition volume in the U.S. fell to about $460 billion, according to data compiled by Bloomberg, the lowest level since the third quarter of 2017.
"Higher volatility does tend to lower M&A," said Bradley Rogoff, global head of credit strategy at Barclays Plc. "When the market is volatile, opportunistic financing goes away."
Volatility has been settling down this month, according to the VIX index for stocks and MOVE index for bonds, which could help lift acquisition volume, and issuance from current levels. Wall Street banks, including Citigroup Inc., Wells Fargo & Co., and Bank of America Corp., forecast only slightly less leveraged loan sales this year compared with 2018.
"In terms of M&A, I do expect more issuance as this cycle still has legs," said Bill Housey, senior portfolio manager at First Trust Advisors.
Even with expected LBOs, there are other factors likely to cut into leveraged finance issuance volume. Tax cuts have increased cash flow for at least some companies, reducing their financing needs. Trade disputes between China and the U.S. may also be delaying capital investments, acquisitions, and associated borrowing, First Trust's Housey said.
And more borrowers are getting loans in the private markets, instead of syndicated loans. This month office supply company Staples Inc. opted to get a $350 million term loan from Golub Capital to back its purchase of DEX Imaging Inc., rather than have a bank sell the debt to investors as it did for a 2017 financing.
"Private debt is one of the places where the issuance is going," said John Yovanovic of PineBridge Capital.
But as long as buyouts keep coming, so will junk bond and leveraged loan sales.
"There's bit of uncertainty right now," said Frank Ossino, portfolio manager at Newfleet Asset Management. "Having said that, there are plenty of PE dollars."