Latin America Set for New Wave of Rate Hikes: Decision Day Guide
(Bloomberg) -- Mexico, Peru and Uruguay are forecast to raise their benchmark interest rates on Thursday in response to above-target inflation and gradually strengthening consumer demand.
Mexico is set to lift rates by a quarter-point to 5%, while Peru will likely raise by 50 basis points to 2%, according to the median estimates in Bloomberg surveys. Uruguay is expected to tighten monetary policy by 25 basis points, to 5.5%.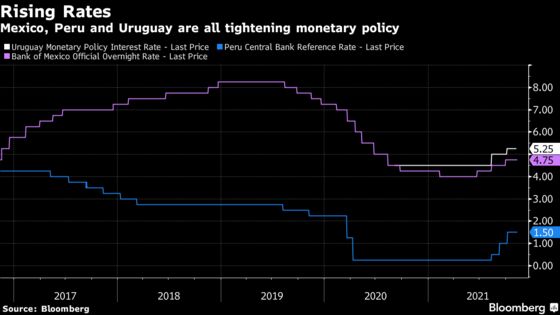 As in other regions, Latin America is being battered by faster-than-forecast inflation fueled by a number of local and global factors. While consumption has firmed as economies recover from pandemic-driven downturns, consumer prices have been propelled by global supply-chain disruptions and costlier raw materials.
Here's what to watch out for in each country:
Mexico: Above-Target Inflation Expectations
Current rate: 4.75%
Time of decision: 2 p.m. ET
Mexico will raise rates as consumer price expectations march higher, with inflation unlikely to slow until early next year, according to Felipe Hernandez, a Latin America economist at Bloomberg Economics. 
Consumer prices rose more than expected in October due to external shocks and more expensive services that are consistent with a recovery in demand, Hernandez wrote. Analysts surveyed by Citi see cost of living increases running above the 3% target this year and next and putting pressure on the central bank led by Alejandro Diaz de Leon.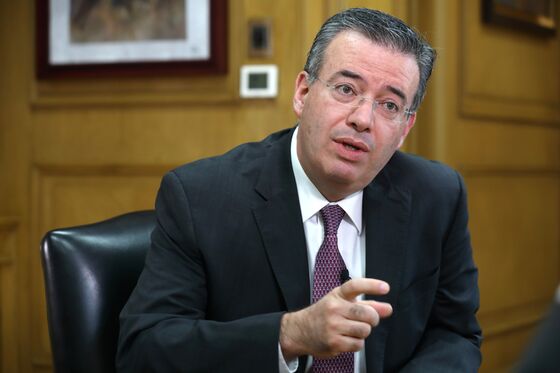 In Bloomberg's survey, eight out of 26 economists have said they expect a half-point hike after annual inflation accelerated more than expected to 6.24% in October. It could near 7% in coming months, according to Gabriel Lozano, chief economist for Mexico and Central America at JPMorgan Chase & Co. Others still see rate hikes of 25 basis points as more appropriate at this time, arguing that monetary policy can do little to rein in supply-related price pressures. 
MEXICO PREVIEW: Banxico Likely to Keep a Gradual Tightening Bias
Investors will also pay attention to policy makers' comments on growth. Even though the bank is keeping a watchful eye on inflation expectations, concerns that the monetary tightening could weigh on the economy make a quarter-point boost likely, said Rodolfo Navarrete, head of analysis at Vector Casa de Bolsa.
"They're going to magnify the effect of the economic decline," Navarrete said, referring to a contraction of gross domestic product in the third quarter. "That's the dilemma facing the central bank."
Peru: 'Overheating' Economy
Current rate: 1.50%
Time of decision: 6 p.m. ET
Peru is also paring back monetary stimulus as inflation forecasts rise. Unlike in Mexico, extra government spending is providing more reason for the central bank led by Julio Velarde to raise rates.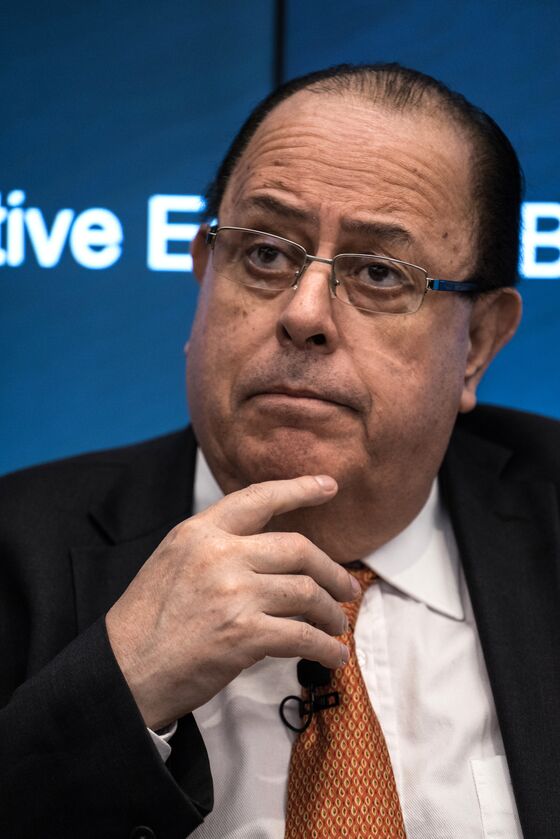 Government policies are overheating the economy, according to strategists at Bank of America Corp. Private pension fund withdrawals, the liberation of severance funds and new rounds of cash transfers seem "poorly timed," they wrote in a recent research report.
Peru's economy is expected to expand 11.5% this year, one of the fastest-growing in the region along with those of Chile and Panama. That outlook may improve as the country moves past a period of political instability surrounding this year's presidential election.
In a statement accompanying the central bank's decision, investors will seek policy makers' views on how long a recent inflation jump will last. Consumer prices rose more than expected last month as food and energy became more expensive and the currency weakened.
This rate-setting meeting will also be the first since Velarde was sworn in for another five-year term on Nov. 2.
Uruguay: More Aggressive Hike?
Current rate: 5.25%
Time of decision: After 3 p.m. ET
Uruguay's annual inflation jumped to a seven-month high of 7.89% in October on higher food and transportation costs. It was the second-biggest monthly increase of 2021.
The data surprised analysts and even opened the door to a more aggressive, half-point rate boost that could help strengthen the central bank's credibility, according to a research note from local brokerage house Puente.
Read More
Mexico Inflation Further Accelerates Before Banxico Meets 
Central Bankers Sworn In to Steer Peru's Economy Through Turmoil