Retail and Real Estate Look Vulnerable After 2019's Gains
Last week showed the two paths equities could take this year: a great start to 2020, echoing the blockbuster year we just had, and a sharp retracement on Friday as tensions between the U.S. and Iran came as a reminder that it's not all rosy out there. Futures are down again this morning, and should there be a sustained market correction, some top gainers of 2019 and expensive stocks might be most at risk.
The question, as always, is: what will investors give up first when things go pear-shaped? Airlines, for example, suffered the most on Friday in the aftermath of the U.S. airstrike that killed a top Iranian commander, on worries fuel prices could spike.
In a broader picture, Societe Generale strategists say that 2019's equity performance went "hand in hand with deteriorating economic sentiment, falling interest rate expectations and declining profits," while most of the gains came from P/E expansion. European stocks may have more room to re-rate than the rest of the world, but they won't be immune to a sentiment shift. Data on Friday also showed a further deterioration in the ISM manufacturing index for the U.S. in December.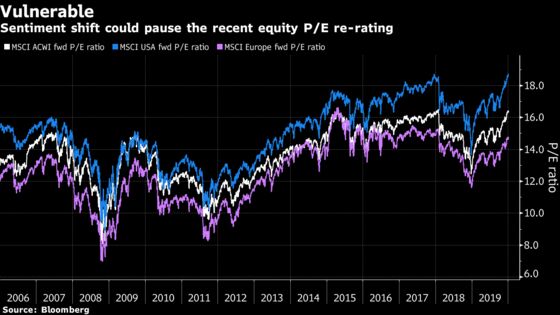 Analysts seem to have a pretty clear idea of what's fully valued. The sectors with little or no upside potential, according to the aggregate average consensus tracked by Bloomberg, are retail, real estate and chemicals. Travel-and-leisure, utilities and construction are just behind those, with little upside left.
Ticker

Industry

Group

Price

Aggregate Analyst

Consensus Price

Upside/Downside

Potential

SXRP
Retail
363.8
359.1
-1.3%
SX86P
Real Estate
194.8
194.5
-0.1%
SX4P
Chemicals
1021.3
1024.2
0.3%
SX6P
Utilities
357.0
360.1
0.9%
SXTP
Travel & Leisure
264.0
266.6
1.0%
SXNP
Industrials
604.4
615.3
1.8%
SXOP
Construction
514.1
525.0
2.1%
Source: Bloomberg
It's no surprise to see retail stocks at the top of the table following their best year on record. Fashion retailer Next might have provided a decent update on Friday, but the market reaction was rather muted. The industry gauge was lifted in 2019 by the bidding war for Just Eat, as well as a stellar performance from Gucci-owner Kering. Within the sector, Delivery Hero is the stock with the most downside (~20%) according to the Bloomberg consensus.
Among real estate equities, U.K. homebuilders had an eye-catching performance despite uncertainties surrounding Brexit during most of 2019. The overal optimism that followed the Conservatives' victory in the general election gave them a further boost, but there are still hurdles ahead. The nature of a Brexit deal and its impact on the U.K. economy remain question marks, while the level of activity in construction has been in contraction territory since April.
U.K. homebuilders seem to be broadly following house prices, with periods of disconnect, as shown in the chart below. Something to keep an eye on, especially with prices expected to be flat this year. According to the analyst consensus, Barratt, Berkeley, Great Portland and Derwent have 12% average downside to their current valuation.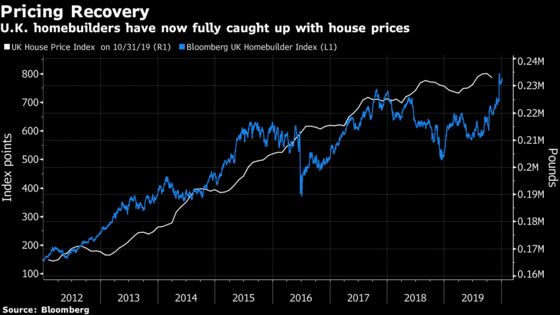 More broadly, and looking at relative valuations, growth equities are still trading near record levels against value stocks. They've been resilient despite the rise in bund yields and could be ripe for a pause. Analysts are still bullish on value sectors such as telecoms, oil & gas and autos, the only industry groups with more than 10% upside, according to the average analyst estimate.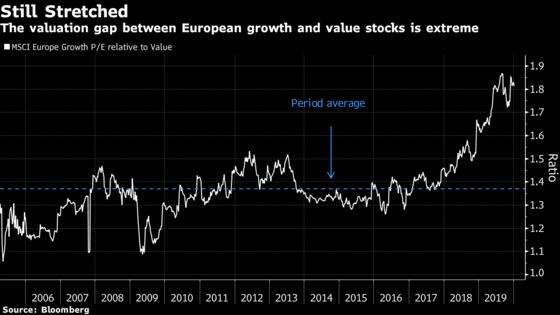 Finally a glance at the Euro Stoxx 50 volatility. The three-month implied volatility barely rose on Friday amid tensions between the U.S. and Iran, and is still hovering near a six-month low. Some periods of higher volatility, even short-lived, are to be expected amid a healthy bull-market correction.