Last Chance at a Miracle: Can Europe Reverse $43 Billion Drain?
(Bloomberg) -- Another quarter is coming to an end, bringing the same old disappointment for European equity bulls.
The Stoxx Europe 600 Index is up just 1 percent since June 30 -- mostly thanks to September gains -- compared with a 7 percent rally for the S&P 500 Index. With political concerns a constant thorn, investors continue to pull money from European equity funds, and there looks to be no end in sight to this year's net $43 billion outflow.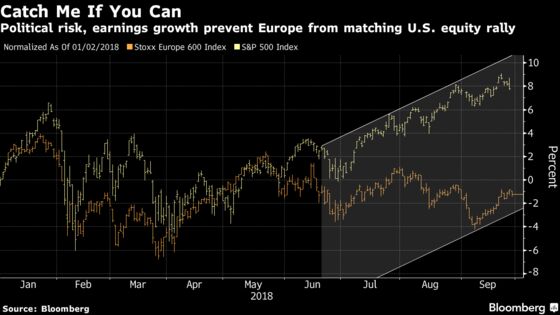 Yet not everyone is deterred. Money managers at Allianz Global Investors, Barclays Investment Solutions and DWS are betting that the fourth quarter will finally bring a European rally given stocks' discounted valuations relative to the U.S., strong dividend prospects, and the promise of economic recovery and political stabilization. A Bloomberg survey of strategists shows expectations of about a 5 percent gain before the year is out.
"The long looked-for turnaround in the fundamental prospects for European stocks is in motion," said William Hobbs, head of investment strategy at Barclays Investment Solutions in London.
Let's take a look at what can go right and wrong for European equities before Christmas:
It's starting to sound like a broken record, but European stocks are still really cheap compared with the U.S. On a forward price-to-book ratio basis, the difference between the S&P 500 and the Stoxx Europe 600 is near the highest since at least 2005.
"Valuations in Europe have now moved to attractive levels," said Edward Park, investment director at Brooks Macdonald Asset Management Ltd. in London.
But European equities are still more expensive than emerging markets, making fund managers at Credit Suisse Group AG and Brooks Macdonald prefer EM, despite the risks. The MSCI EM Index, which trades at a near 20 percent discount to the Stoxx Europe 600 index, has outpaced European stocks during 2016 and 2017 with a total return of 46 percent, compared with an 18 percent gain in dollar terms for the Stoxx 600 over the same period.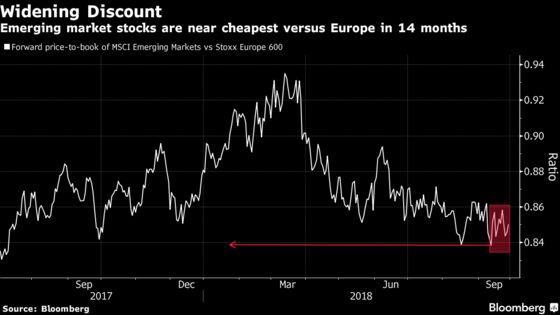 "There needs to be a material pickup in growth in Europe in order for it to become attractive," said Michael O'Sullivan, chief investment officer for International Wealth Management at Credit Suisse in Zurich. "If I were to choose between Europe and emerging markets, I would stick with EM. They're cheaper and more oversold."
One of the biggest problems for European equities, and one that's unlikely to ever disappear, is a constant stream of political concerns. In the third quarter, the main issues pummeling European markets were trade war worries, as well as fallout from the Turkish currency crisis and fears about the Italian budget.
For the rest of the year, investors will carefully monitor the U.K.'s negotiations with the European Union, and Marcus Morris-Eyton of Allianz Global Investors says traders will want to see progress before returning to Europe.
The seemingly unstoppable 27-week flight from European equity funds could be the very reason why the region's stocks could outperform in the fourth quarter. According to Britta Weidenbach, head of European equities at DWS in Frankfurt, outflows can reverse quickly once there's more visibility on trade and the Italian economy in addition to stronger earnings growth.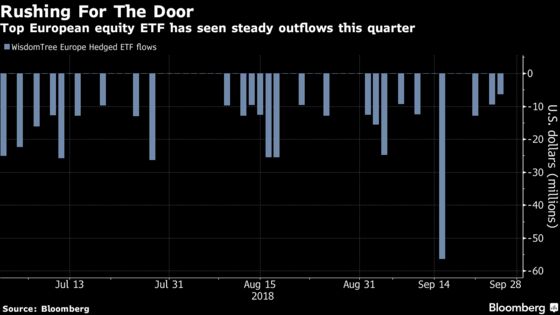 "The massive performance differential versus the U.S. has recently begun to close and we expect this to continue," said Rory Bateman, head of U.K. and European equities at Schroders. "Markets remain susceptible to volatile periods and we would suggest investors be opportunistic and take advantage of this volatility to buy assets that become mispriced."
At the end of the day, the discrepancy in the performance of European versus U.S. stocks comes down to earnings growth, with this year's U.S. tax reform having fueled a profit boom among American corporations. Companies in the Europe Stoxx 600 Index are expected to see 5.7 percent profit growth in 2018 and a 9.1 percent increase next year, according to Bloomberg earnings estimates. This is a stark contrast to U.S. forecasts of 24 percent for this year and 11 percent next year.
"This year, EPS growth in the U.S. was more than double that of Europe, courtesy of the cut in corporate tax rate," said Emmanuel Cau, head of European equity strategy at Barclays. "However, this won't be repeated in 2019."
The banking sector is one of Europe's worst performers this year due to disappointment over the European Central Bank's decision not to hurry rate increases, but in September the tide started to turn. Citigroup Inc. strategists called European bank shares "the world's biggest contrarian trade" and Credit Suisse pointed out that the region's lenders offer the highest dividend payout relative to the broad market since the 2008 financial crisis.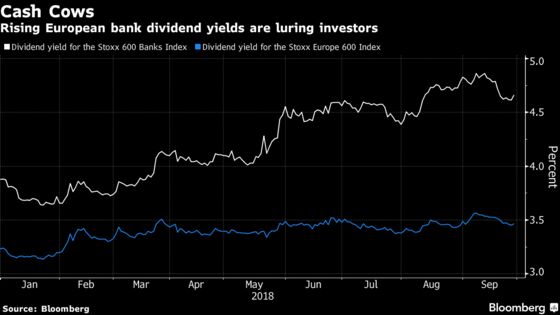 "I think the financial sector will stop being a drag to European equity market performance as bond yields stabilize," said DWS's Weidenbach.
In September, the inflow into the iShares MSCI Europe Financials ETF was about $33 million, after seeing an outflow of $510 million in August, when concerns about Italy, Turkey and other emerging-market crises fueled investors' exit.