Larry Fink Confronted by Anti-Gun Protesters at Yahoo Summit
(Bloomberg) -- As Larry Fink strode across the stage at The Times Center to be interviewed about the global economy, a pair of female activists had a different idea for the morning's agenda.
A woman carrying a magenta banner that read "Fink: Divest from War. Stop the Killing" leaped on stage. "We are calling on you to divest from war!" she yelled. The Twitter handle of Code Pink, a women-led grassroots group, was written on the banner.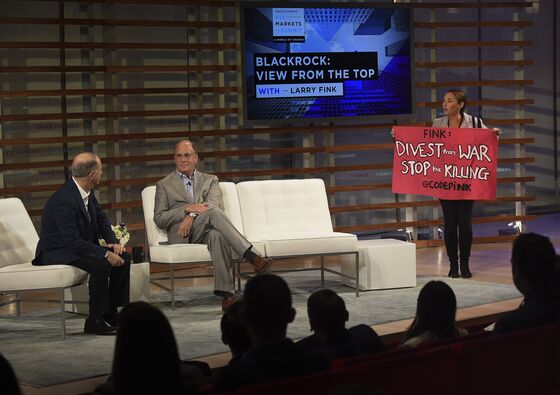 Fink, who leads BlackRock Inc., said nothing and turned away, unflinching. After the first protester was escorted away, another woman took the stage, yelling "Stop making a killing on killing."
The protests at the Yahoo! Finance All Markets Summit on Thursday highlight the pressure on asset managers like BlackRock to address gun violence. Code Pink campaigns to get institutions and individuals to cut financial ties to arms manufacturers that "lie at the brutal heart of the military-industrial complex," according to its website.
The long list of companies that count BlackRock among their largest shareholders include weapons manufacturers like Lockheed Martin Corp. and Northrop Grumman Corp. 
"Virtually all of these shares are held in index funds," Melissa Garville, a spokeswoman for BlackRock, said in an emailed statement. "Index providers determine which companies to include in the indices they create."
BlackRock, the world's largest asset manager, announced plans for two exchange-traded funds that exclude civilian firearm makers and large sellers earlier this year. Its iShares MSCI USA Small-Cap ESG Optimized ETF gathered just $11 million in assets since launching in April, according to Bloomberg data.
After the women were led out of the conference, Andy Serwer, the editor-in-chief of Yahoo! Finance who was on stage to interview Fink, said, "Well, we live in a democracy."
The interview proceeded, with Serwer and Fink discussing geopolitical tensions and U.S. trade wars.