Lansdowne to Shut Main Hedge Fund in Retreat From Shorting
(Bloomberg) -- Lansdowne Partners is shutting its main hedge fund in a shift away from short-selling after being hit by some of its worst-ever losses.
The London-based investment firm is closing the $2.8 billion Lansdowne Developed Markets Fund, according to a letter to investors seen by Bloomberg. Clients can withdraw their money or move it into the Lansdowne Developed Markets Long Only Fund or a new LDM Opportunities Fund, which will invest in early-stage companies. The firm will continue to bet against companies in some of its other funds.
A spokesman for Lansdowne Partners declined to comment.
The move marks a dramatic retreat by one of the world's most famous equity long/short hedge funds, and comes after poor performance in both rising and falling markets. The firm's main hedge fund is run by Peter Davies and Jonathon Regis and tumbled 13% in March's rout, the biggest monthly decline since it started trading almost two decades ago. It was down 23.3% in the first half of the year, according to another letter to investors.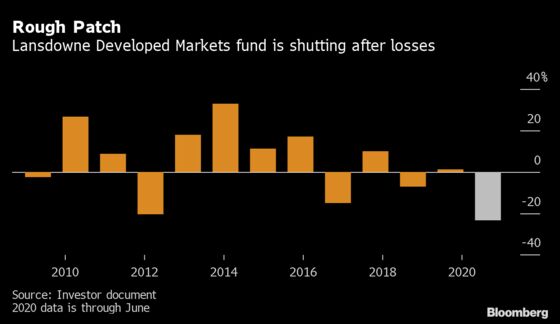 Years of poor returns have led to outflows from the firm, with its assets dropping to $9.8 billion in June from a peak of nearly $22 billion in 2015.
The firm told investors in the letter that it's become harder to make money with short bets against companies, and it's finding more opportunities in long bets and investment in early-stage companies.
"We believe that our exclusive focus going forward should be the listed long book and a more proactive approach to the early-stage investments, both private and public," according to the letter. "These opportunities are ones which we think have distinct attractions, time horizons and risk profiles and therefore warrant separate investment vehicles."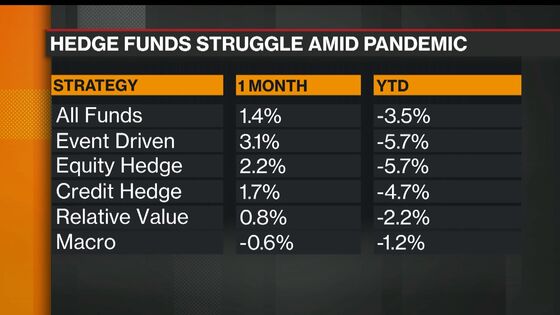 Lansdowne was already managing more money in its long-only funds than in other strategies. At the start of March, only about 45% of the firm's assets were in long-short money pools.
As part of its restructuring of the developed markets strategy, Lansdowne has offered a share class that will house private and less-liquid assets that it plans to sell in the months ahead. Its Developed Markets Fund had about 8% of its assets invested in private companies at the end of September, according to an investor document.
The new LDM Opportunities Fund will make about half a dozen early-stage investments for the next three years as well as retain exposure to the existing private and less liquid public positions in the firm's main hedge fund, according to the letter.
The news of Lansdowne's fund closure was reported earlier by Institutional Investor.