Wary of Past Defaults, Ecuador Charts New Course
(Bloomberg) -- Ecuador's fiscal discipline is making investors forget about its history of defaults, according to Finance Minister Richard Martinez.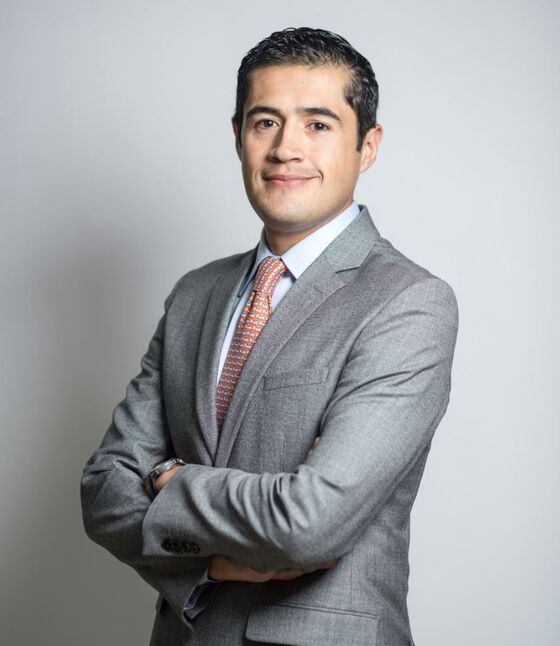 The 38-year-old economy chief said his emphasis on budget cuts, transparency and communication since taking office in May is luring foreign fund managers to the nation with the dubious distinction of having the second-most defaults in the world since 1800. Ecuador's yield spread over U.S. Treasuries has fallen to 620 basis points, briefly dropping below Argentina for the first time since 2015.
"Investors see facts more than words," he said in an interview during the UN General Assembly in New York late Tuesday. "It takes time to win investor confidence, but they're seeing a positive story in Ecuador."
Martinez's optimism comes at a turbulent time for emerging markets amid a strong dollar, rising U.S. interest rates and an escalating trade war between Washington and Beijing. Ecuador is better protected than a country like Argentina due to its dollarized economy, negative inflation and lack of interest rate problems, he said. The finance minister expects Ecuador's fiscal deficit to narrow to 3.2 percent of gross domestic product in 2019 after a slew of belt-tightening measures. Still, he warned that these steps must be taken gradually as a shock adjustment would risk spurring a sharp recession.
Increased market volatility has forced the nation to delay a global bond sale, according to Martinez. The Finance Ministry is more optimistic about tapping debt markets next year and the nation will also seek funding from China when President Lenin Moreno visits Beijing in December, he said. While Ecuador doesn't want to become too reliant on repurchase agreements, like the one struck with Goldman Sachs last month, the government is considering proposals from several other banks, Martinez said.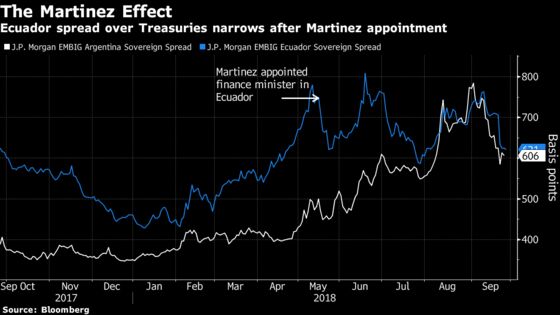 The finance minister also didn't rule out funding from the International Monetary Fund, which recently extended a $50 billion credit line to Argentina. Under former President Rafael Correa, Ecuador reduced its ties with the Washington-based fund. Martinez said the nation is receiving technical assistance from the IMF, including data compilation, but isn't currently discussing funding with them.
Ecuador's benchmark bonds due in 2028 climbed 0.51 cent to 90.54 cents on the dollar, the highest in nearly two months as of 1:50 p.m. New York time.
"We definitely are not at risk of a default," Martinez said. "We have different sources of financing because we are making the right form of adjustment."
Martinez said he's "very worried" about the humanitarian crisis in Venezuela and its impact on Ecuador, which is receiving about 6,000 migrants per day. Ecuador's government believes that Nicolas Maduro's regime has violated democratic principles, he said, although neither the U.S. approach of sanctions nor China's loans to support Caracas are the answer.
"Ecuador is a third option," Martinez said. "We don't agree with the populism and how the Maduro regime has managed the crisis -- but we also don't agree with intervention."