Lack of Conviction Puts Investors on the Defensive: Taking Stock
(Bloomberg) -- (Bloomberg News has renamed the European Equity Pre-Market column Taking Stock. It will appear every trading day at the same time as the previous column.)
Euro Stoxx 50 futures are little changed after U.S. markets closed flat to slightly lower in an indecisive trading session that saw Treasuries retreat from a 7-year peak. In Italy yesterday, the FTSE MIB showed a rejection of bear market levels, in what could be interpreted as a bullish signal or a dead-cat-bounce given the lack of conviction surrounding equity markets.
The rebound in cyclicals last month has proved to be short lived amid trade tensions, global growth worries and jitters over the Italian budget. In contrast, defensive stocks are outperforming cyclicals again, with the ratio between the two groups hitting its lowest level since early 2017.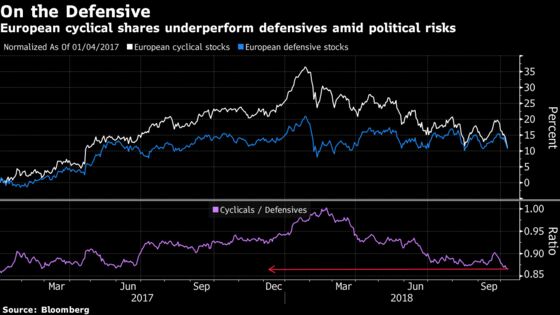 In an environment that favors defensives over cyclicals, investors would avoid financials, especially in a period of widening BTP-Bund spread. Nevertheless, looking at the chart below, it seems that European banks are particularly responsive to euro moves this year. As the EU and the U.K. seem to get closer to an agreement, a positive announcement is likely to cheer investors and benefit both currencies.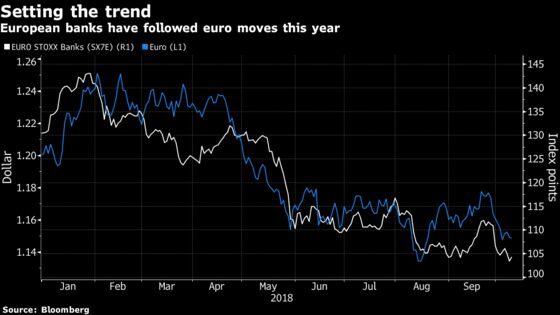 Staying with banks, HSBC will be one to watch after the institution agreed to pay $765 million to settle claims related to its packaging, securitization, issuance, marketing and sale of residential mortgage-backed securities (RMBS) between 2005 and 2007. The stock is up 0.9% in Hong Kong trading.
The newsflow for U.K. companies is not all positive: the U.S. is threatening to block the country from a 46-nation public procurement agreement that would leave them out of a near $2 trillion-dollar marketplace after Brexit. Serco Group and Rolls-Royce might react to that.
Other stocks that may be active today include LVMH after the luxury group released sales for the third quarter last night. Organic growth of 10 percent, in line with estimates, might reassure investors who will still be keen to hear more about current Chinese demand during a conference call today. This will likely set the trend for other luxury-goods manufacturers like Kering and Burberry.
Autos will also be in focus after European Union governments proposed tougher car-emission reduction targets for 2030.
Elsewhere, Asian equities are moderately gaining, while the dollar is weaker against both the euro and the pound. There a lot of data coming from the U.K. today, including output and GDP, and those are to be monitored closely. Oil and gold are steady, while base metals are slightly down. In contrast, iron ore prices jumped again, hitting the $70 level and should benefit miners Rio Tinto and BHP Billiton, both stocks were moderately up in Australia overnight.
Finally a word on asset allocation, a theme that split the investment community. When do Treasuries become more attractive than equities? For bond giant Pacific Investment Management Co. that time is now -- for the equities team at Bank of America Merrill Lynch, it's still some way away, as a yield of 5% on the 10-year benchmark is when stock investors should turn to bonds.
"Trends seem to have finally faded, and it leaves investors without convictions and with lots of doubt," Societe Generale equity derivatives strategists including Vincent Cassot write in a note. "Despite that -- or perhaps because of it -- investors have been piling even more into the short volatility strategies, increasing the probability of a violent swing back."
NOTES FROM THE SELL SIDE:
Speaking about LVMH, RBC said 3Q total organic sales growth came in line with expectations, but the 14% organic growth in fashion and leather goods is ahead of consensus and sustains the "strong momentum" seen in 1H.
Still in the luxury-goods sector, Jefferies reduced Kering's PT to EU545 from EU590 after adjustments to currency fluctuations and latest developments, they reiterated the fashion giant's stock is "cheap," and there's no steeper-than-expected slowdown in sight for its key Gucci brand.
Citi expects capital goods manufacturers Volvo, Alfa Laval, Epiroc, Metso and SKF to "trade well" ahead of 3Q, and "more lackluster" trading from GEA, Atlas, Kone, Alimak and Trelleborg.
Watch U.K. Contractors on Report U.S. Mulling Blocking From Pact
European Luxury Stocks May Rise After Reassuring LVMH Results
Watch European Auto Stocks as EU Sets Tougher Emission Targets
Lundin Family's IPC to Buy All Shares of BlackPearl
Kosmos Fails to Find Hydrocarbons at Suriname's Pontoenoe-1 Well
Danske Bank Faces Higher Funding Costs, CFO Tells Berlingske
Hollywood Bowl Group Considers Additional Capital Returns
Domino's Pizza Names Bauernfeind CFO Effective Immediately
Sanderson Says FY Results 'Slightly Ahead of Mkt Expectations'
Scapa Group Says 1H Trading Profit, Margins Ahead of Last Year
Accesso Tech Reaches Booking Partnership Accord With Google
BAT Chief Marketing Officer Gray Steps Down, Replaced by Wheaton
Marston's Boosted by World Cup, Warm Summer
Subsea 7 Awarded 'Sizeable' Contract in Offshore Ghana
Nordea Says It Culled Suspicious Accounts to Fight Laundering
Novo Nordisk CSO Thomsen Has Successor in His Team, Borsen Says
KKR Taps Citi, Macquarie for X-Elio Sale: Cinco Dias
Akasol Gets 'Strategically Important' E-Mobility Order
Spain's MCH Working on Europastry IPO for 2019: El Economista
Thales on Track to Meet Transport Ops Goal, CEO Tells Tribune
Home Invest Belgium Names Sven Janssens CEO
ASR Nederland Announces New Medium-Term Targets
NN Group Places Restrictions on Investments in Oil Sands
Roche: Ocrevus Shows Early Treatment Cuts Disability Progression
Heineken South Africa's Brewery Workers Strike, Reuters Says
Takeaway Nine Month Orders +31%
Marine Harvest Names Gjerde COO Farming for all Farming Ops
CropEnergies First Half Operating Profit EU14.2 Mln
TECHNICAL OUTLOOK for Stoxx 600 index:
Resistance at 379.9 (23.6% Fibo); 382.2 (50-DMA)
Support at 371.9 (Sept. low); 365.1 (38.2% Fibo)
RSI: 35.5
TECHNICAL OUTLOOK for Euro Stoxx 50 index:
Resistance at 3,398 (50-DMA); 3,456 (200-DMA)
Support at 3,315 (38.2% Fibo); 3,274 (Sept. low)
RSI: 39.2
MAIN RESEARCH AND RATING CHANGES:
UPGRADES:
Austevoll Seafood raised to buy at Kepler Cheuvreux
Bakkafrost upgraded to hold at Kepler Cheuvreux; PT 520 Kroner
Dixons Carphone raised to buy at HSBC; Price Target 1.95 Pounds
KBC Group upgraded to buy at Santander; PT 80.10 Euros
Neste upgraded to buy at Kepler Cheuvreux; PT 82 Euros
Ocado upgraded to equal-weight at Barclays; PT 8.75 Pounds
Rightmove upgraded to buy at Liberum; PT 50 Pounds
Soco upgraded to outperform at RBC; PT 1.25 Pounds
Ceconomy cut to sell at Independent Research; PT 4.50 Euros
Ceconomy downgraded to hold at Baader Helvea; PT 6 Euros
Ceconomy downgraded to reduce at HSBC; PT 4.20 Euros
Enagas downgraded to sell at Berenberg
Hella downgraded to hold at Berenberg
Hunting downgraded to equal-weight at Barclays; PT 10 Pounds
IPCO SS cut to underweight at Barclays
Leroy downgraded to hold at Kepler Cheuvreux; PT 75 Kroner
TGS downgraded to underweight at Barclays; PT 360 Kroner
Tecnicas Reunidas cut to equal-weight at Barclays; PT 36 Euros
Terna downgraded to hold at Berenberg
Applus reinstated overweight at Morgan Stanley; PT 15.20 Euros
Bureau Veritas reinstated overweight at Morgan Stanley
Fjord1 rated new buy at DNB Markets; PT 55 Kroner
Niiio Finance Group rated new hold at GSC Research
MSCI Asia Pacific down 0.9%, Nikkei 225 up 0.2%
S&P 500 down 0.1%, Dow down 0.2%, Nasdaq little changed
Euro up 0.17% at $1.1511
Dollar Index down 0.12% at 95.55
Yen down 0.03% at 112.99
Brent down 0.2% at $84.9/bbl, WTI down 0.3% to $74.7/bbl
LME 3m Copper down 0.2% at $6279.5/MT
Gold spot little changed at $1190.2/oz
US 10Yr yield little changed at 3.21%
MAIN MACRO DATA all times CET:
10am: (IT) Aug. Industrial Production WDA YoY, est. -1.5%, prior -1.3%
10am: (IT) Aug. Industrial Production NSA YoY, prior 1.8%
10:30am: (UK) Aug. Monthly GDP 3M/3M Change, est. 0.6%, prior 0.6%
10:30am: (UK) Aug. Trade Balance Non EU GBP/Mn, est. £3,100 deficit, prior £2,800 deficit
10:30am: (UK) Aug. Industrial Production YoY, est. 1.0%, prior 0.9%
10:30am: (UK) Aug. Manufacturing Production YoY, est. 1.1%, prior 1.1%
10:30am: (UK) Aug. GDP (MoM), est. 0.1%, prior 0.3%
10:30am: (UK) Aug. Trade Balance, est. £1,200 deficit, prior £111 deficit
10:30am: (UK) Aug. Construction Output SA YoY, est. 1.2%, prior 3.5%
10:30am: (UK) Aug. Index of Services MoM, est. 0.1%, prior 0.3%