Kraft Heinz Growth Depends on Mayochup or M&A
(Bloomberg Opinion) -- The tug of war between Kraft Heinz Co.'s shareholders and bondholders is fierce, but both sides keep slipping in the mud.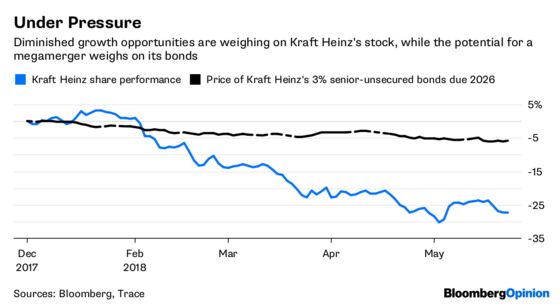 As of Monday, credit analysts at Moody's Investors Service were just beginning to feel optimistic about the packaged-food giant. Since the 2015 merger that brought together Kraft Foods and H.J. Heinz, the company's private equity managers have extracted more cost savings than expected and retired some debt. Now, with the merger integration largely complete, Moody's changed its outlook to positive from stable, saying it expects Kraft Heinz's debt-to-Ebitda ratio to fall "sustainably below" 4 this year, down from 5.2 when the deal first closed.
By Tuesday, though, speculation was heating up that Kraft Heinz will soon come out with a debt-fueled megadeal to get its growth juices flowing as profit margins max out. That sounds more like the Kraft Heinz we've come to know. 
The stock has been trading near its lowest price since 3G Capital and Warren Buffett's Berkshire Hathaway Inc. orchestrated the Kraft Heinz merger. It's becoming more evident that 3G's strategy is better geared toward short-term returns and that it will be difficult for Kraft Heinz's leading products to maintain market share amid a deluge of upstart niche brands luring shoppers who aspire to make healthier choices. The old pantry mainstays don't have the same appeal for younger generations prone to rethinking norms. 
3G Capital has questioned norms, too—in M&A, that is. The Kraft Heinz experiment was a private equity buyout in which the target remained public. So while its managers are going about their cost-cutting to quickly boost returns, minority shareholders are scrutinizing quarterly numbers and becoming more concerned about the trend of flat to falling revenue. This dynamic is unsustainable. However, the only way to deliver growth is to either spend a lot of time and money creating or buying new brands, or to go after a big target that offers more cost-reduction opportunities and its own stable of existing labels. The latter is more immediate, but not necessarily best. Then again, Kraft Heinz's latest mayochup "innovation" doesn't instill much confidence in its internal growth activities.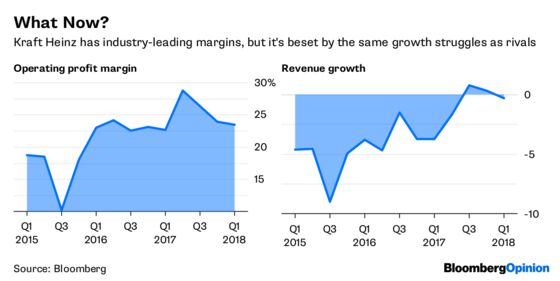 Needless to say, a vulnerable takeover target has emerged: Campbell Soup Co. The $10 billion company's CEO, Denise Morrison, has abruptly retired, as I predicted would happen, leaving a beaten-down stock and hodgepodge of products for the taking. Other companies surely interest Kraft Heinz, but as Pablo Zuanic of Susquehanna Financial Group LLP noted in a report Tuesday, the feasibility of a Unilever-sized deal nowadays seems remote, given the apparent "cooling" of Kraft Heinz's relationship with Berkshire Hathaway and the shrinking value of its stock as deal currency.
Buffett recently departed Kraft Heinz's board, and when he was asked about the attractiveness of the investment at Berkshire's annual investor meeting this month, he said he didn't "want to give information on marketable securities in that manner." If Berkshire were to try to exit its 27 percent stake now, it would be rough for the stock price, but it could also make it more difficult for Kraft Heinz to strike its next deal.
Given the potential for a major acquisition, it's not lost on Moody's that further leverage reduction will be the result of increased profits rather than debt repayment—just like how Kraft Heinz's glorified earnings growth has come from cost cuts rather than stronger sales.
A megamerger won't solve Kraft Heinz's challenges in the long run, but anything's better than mayochup—unless, of course, you're a bondholder.