Korean Exotic Notes Get Wiped Out With Oil's Plunge Below Zero
(Bloomberg) -- South Korea's mom-and-pop investors, who dominate the nation's $86 billion market for structured notes, face massive losses as oil sank to a historic low.
About 1.45 trillion won ($1.18 billion) worth of notes tied to Brent or West Texas Intermediate futures were outstanding as of April 20, according to data from the Korea Securities Depository. One of the most-popular securities, a three-year vehicle sold by Samsung Securities Co., guarantees a 6.6% pre-tax annual coupon unless one of its underlying assets -- WTI contracts, the Hang Seng China Enterprises Index and the Euro Stoxx 50 Index -- falls more than 50% from their Feb. 12 closing price of $51.17.
With WTI futures plunging to below zero a barrel, buyers may lose at least 30% of their initial investment and could see it evaporate completely depending on how much the commodity ends up losing by the expiration date.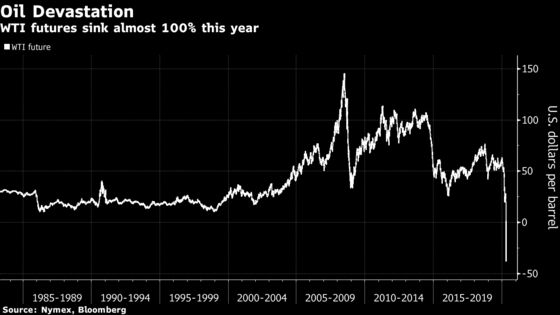 Korean regulators have stepped up scrutiny over the sale of derivative products at local brokerages to retail investors, many of whom were elderly people seeking a stable yield for retirement. The wide ride of oil prices is another reminder of the risks of those speculative products.
The exchange-traded notes purely linked to oil prices have become increasingly popular among Korean retail investors, according to Hyo-seob Lee, a researcher at Korea Capital Market Institute. Many of them bought such securities when WTI was around $20 a barrel to bet on a rebound, he said. But demand was so high that their prices shot up and became unhinged from oil futures recently, Lee said.
Korea Exchange halted trading of some of those notes earlier this month because their market price jumped to as much as 80% above the value of the underlying assets.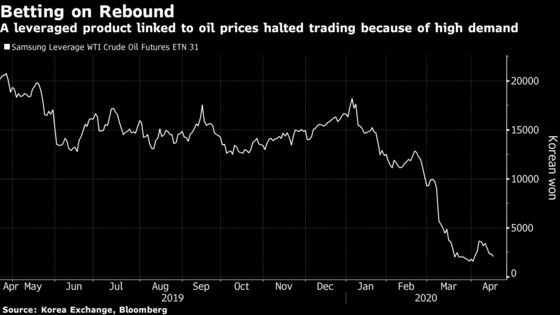 "Traders say such Korean structured products may be adding volatility to the oil market," Lee said. "The more Korean investors buy such products to bet on a rise, the more opportunity traders have to short the asset. Korean retail investors are, literally, fools."
South Korea has about 106 trillion won worth of structured notes, Korea Securities Depository data show. Of that, 72 trillion won is lined to equity gauges such as the S&P 500 Index or the Euro Stoxx 50, with the remaining tied to derivatives including oil futures. The market for exchange-traded notes, which are listed on stock exchanges, was about 7.2 trillion won as of the end of March, according to Korea Exchange.