Korea Traders Can Thank Activism for Newfound Corporate Largesse
(Bloomberg) -- South Korean companies, notorious for low dividends and cash hoards, are becoming more generous. Thank activists and changes in corporate governance for it.
Kospi index members have been boosting their shareholder returns and last year paid almost 23 percent of their net income in dividends, according to data available compiled by Bloomberg. That's the most since 2007, with the payout yield rising to 2.2 percent. The increases came even as analysts see profits falling this year.
Activism has landed in South Korea in recent months -- Paul Singer just struck again -- and institutional investors including the National Pension Service have adopted a stewardship code giving directives on how to exercise shareholder rights. That's why companies have been taking pre-emptive actions, increasing dividends ahead of annual general meetings starting next week, said Yoon Tae-Ho, an analyst at Korea Investment & Securities.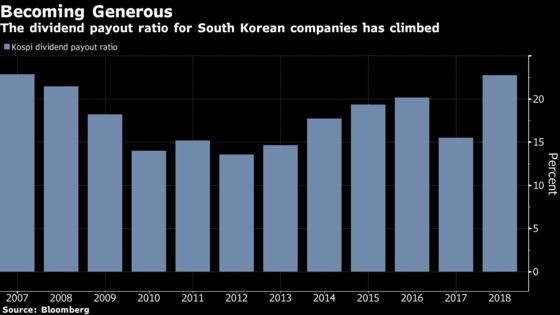 "Companies that previously paid low dividends appear to feel a burden," Yoon said. "The upcoming shareholder meetings will be an opportunity for investors to confirm the effect of the stewardship code."
David Hurwitz of U.S. hedge fund SC Fundamental LLC says shareholders discovering they can get management to behave differently is the "biggest change" in attitudes that he's seen.
"Shareholders, for years, viewed owning shares as a passive thing to do," the fund manager said in a telephone interview from New York. His firm has invested in Korean equities for more than a decade. "People discovered they have a voice -- 'We are an owner, we are not bond holders!'"
The New York-based hedge fund frequently demands changes to Korean companies with attractive valuations but poor capital allocations, Hurwitz said. While the requests aren't always successful, liquor maker Muhak Co. accepted a proposal from SC Fundamental and other shareholders to maintain its dividend at 350 won a share despite a loss in 2018, according to Hurwitz and the company.
"Although it was a bit of a burden for the company due to a loss last year, we decided to accept it amid the rising public interest for shareholder returns," said Ji Yong-Uk, a Muhak representative.
Even though large-sized companies are leading the recent change in dividend policies, investors may find further opportunities in small- or mid-cap firms, says Korea Investment & Securities' Yoon. Most of those still have payout ratios of less than 15 percent despite stable earnings growth, he added.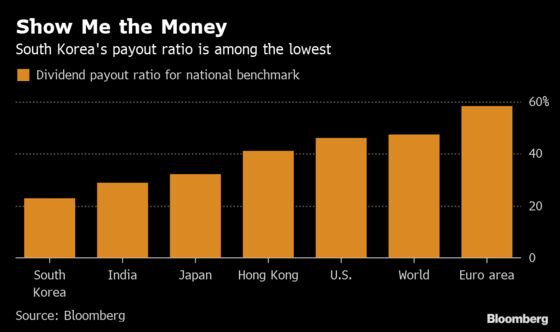 Pressured by Singer's Elliott Management Corp., Hyundai Motor Group and its subsidiaries have announced shareholder returns including buybacks and dividends. And for the first time, the company recently hosted a conference where executives actively communicated with investors, Kim Jin-Woo, an analyst at Korea Investment & Securities, wrote in a note entitled "Now we can finally communicate with them."
Some local fund managers have started mimicking Elliott. Platform Partners Asset Management Co., a Seoul-based fund, said it earned returns of between 10 percent to 30 percent last year by pushing Macquarie Group Ltd. to cut management fees. In February, family-controlled conglomerate Hanjin Group said it would strengthen management transparency and increase shareholder returns following calls from a homegrown activist, while the NPS is debating whether to also ask for changes.
Of course, shareholder proposals are not always successful, even for the NPS, the country's largest pension with stakes of 10 percent or more in about 100 listed companies. Just last month, Namyang Dairy Products Co. refused to accept its call to pay higher dividends.
The mentality of boosting earnings and keeping them on the balance sheet has been "very destructive" to Korea, according to SC Fundamental's Hurwitz. When a company goes public, it's to let investors participate in its growth and get a piece of future profits, he said.
"Who's going to invest in an IPO where, there really is: 'We are just keeping the money and you're never going to see anything?"' Hurwitz said.