Korea's Stock Benchmark Erases 2021 Gain Amid New Virus Woes
(Bloomberg) -- South Korea's benchmark stock index erased its gain for the year on renewed outflow of foreign funds amid worries that the new Covid variant could hamper the global economic recovery.
The equity benchmark fell 2.4%, with losses accelerating in the afternoon following a Financial Times that Moderna Inc.'s CEO said existing vaccines may struggle against the omicron strain. The index is down 14% from its July 6 record high as overseas funds cash out of the local equities market, while the nation's loyal retail investors have limited their recent buying to hot niches including the metaverse.
The Kospi was the world's best-performing major index last year due to the retail buying frenzy and the market's heavy weightings of Covid winners in health-care and technology. The gains continued into summer amid hopes for reopenings, but started to falter following the lifting of a ban on short-selling in May and concerns over inflation in addition to the new virus strain.
"The South Korean stock market has been reacting especially sensitively to the new virus variant, while there are no large buyers," said Choi Kwangwook, chief investment officer at Seoul-based J&J Investments Co. "Retail investors have flocked only to a limited sectors while mega-IPOs have absorbed liquidity."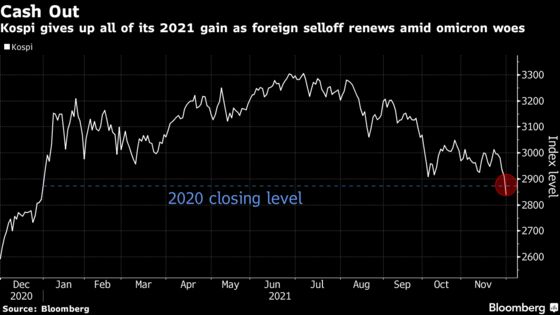 A local media report said two cases of Covid identified in the city of Ulsan on Tuesday were from Germany and the Netherlands, where omicron cases have been found. While health authorities have not identified cases of omicron in South Korea, the report by Financial News further dampened investor sentiment that was already under pressure from resurgent virus worries, according to Seo Sang-Young, a market strategist at Mirae Asset Securities Co.
Foreign funds have sold a net 1.16 trillion won ($977 million) in Kospi names since the start of October, reversing a brief bout of buying in September. Their selloff has been most pronounced in Samsung Electronics Co., which has seen a net outflow of 1.74 trillion. Samsung shares have fallen more than 20% from their record high in January.
South Korea's influential retail traders, who typically account for three quarters of daily turnover, have continued to add Kospi shares, but it hasn't been enough to offset the exodus of foreign traders. Recent buying by individual investors has been concentrated in stocks and exchange-traded funds related to the metaverse, according to Choi and Seo.