Kiwi Headwinds Growing as RBNZ Keeps Option of Negative Rates
(Bloomberg) -- The rally in the New Zealand dollar from a more-than-decade low is in danger of coming to an end amid the backdrop of a weakening economy and a central bank that stands ready to act.
While the kiwi has risen about 9% from its March 19 intraday low against the dollar -- buoyed by news from Prime Minister Jacinda Ardern that lockdown restrictions are set to be eased -- it has been unable to break higher from its recent trading range, thanks in part to comments from Reserve Bank of New Zealand Governor Adrian Orr.
The RBNZ chief suggested that not only do negative rates remain a policy option on the table, but that he is even open minded about the monetization of government debt. The dovish remarks will only increase investor focus on upcoming economic data, which could act as a catalyst for further monetary easing.
While investors are pricing in about a 42% probability of a rate cut to 0% by November, a sharp decline in this week's consumer and business confidence data could boost those easing bets and weigh on the kiwi.
"Price action looks stronger, but we wonder how sustainable it is given RBNZ dovishness and sentiment challenges facing the kiwi should the risk-on environment we're now in change," wrote ANZ Banking Group Ltd. economist Liz Kendall and strategist David Croy in a note Friday.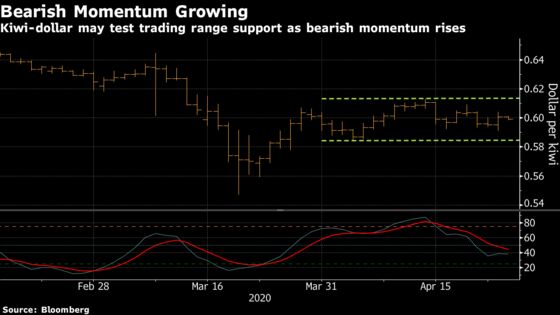 Chart watchers will be looking out for a breach of technical support at the 58.44 cent level -- the lower boundary of this months trading range -- for a sign that the kiwi's rally is over. That would open up the door for a move toward 56 cents. The kiwi traded around 59.8 cents Friday.
Still, leveraged funds are sitting on the sidelines, with no significant positions in either direction, according to the latest Commodity Futures Commission data. And some strategists suggest the central bank is unlikely to move further on rates.
"Debt monetization is effectively what the RBNZ is doing already, with the government issuing bonds to the market and the RBNZ coming in behind and buying bonds in large amounts to soak up the supply and keep rates down," said the Bank of New Zealand's Jason Wong. "We are skeptical that the RBNZ will cut the OCR further."
Below are the key Asian economic data and events due this week:
Monday, April 27: China industrial profits, BOJ policy decision
Tuesday, April 28: Japan jobless rate, South Korea consumer confidence
Wednesday, April 29: Australia 1Q CPI, New Zealand trade balance, South Korea manufacturing/non-manufacturing business surveys and industrial production
Thursday, April 30: China manufacturing and non-manufacturing PMI's, Australia private sector credit, New Zealand business confidence and activity outlook, Japan retail sales and industrial production, Philippines bank lending and money supply, Thailand trade balance, Thailand trade balance
Friday, May 1: Australia 1Q PPI, New Zealand consumer confidence, Japan manufacturing PMI and Tokyo CPI, South Korea trade balance