Kingsman Sees 'Constructive' Sugar Market as Shortage Forecast
(Bloomberg) -- After two years of depressed prices, the global sugar market is forecast to start turning the corner.
That's the assessment of Kingsman, a unit of S&P Global Platts, which now expects the market to face its first shortage in three years in the season that starts in October. Production will fall short of consumption by 3.7 million metric tons, reversing a surplus of almost a similar amount this season.
Raw sugar futures traded in New York tumbled more than 20 percent in each of the past two years as bumper crops from the European Union to Thailand and India overwhelmed demand, which has been facing headwinds due to health concerns. Still, the years of bumper crops have left the world with big reserves, which can be easily tapped should prices rise.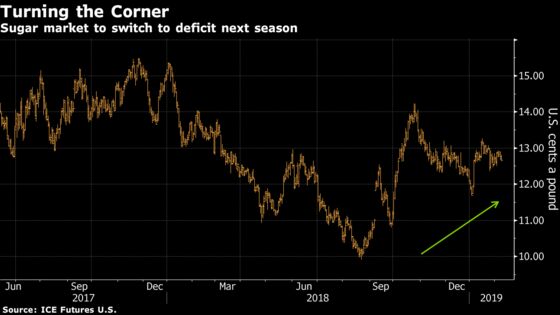 "We are already seeing a more constructive scenario than a few months back," said Patricia Luis-Manso, who heads Kingsman's sugar and ethanol research, and has previously worked for Louis Dreyfus Co. and BNP Paribas SA. "Now this sugar hasn't disappeared. This sugar is in stock in India and a bit in Mexico, but it's true it's a bit more constructive," she said in an interview before the Dubai Sugar Conference.
The market's switch from a surplus of 3.2 million tons this season is already being felt in prices. Sugar futures have gained 5.2 percent this year to 12.66 cents a pound. Last year, they fell below 10 cents, the lowest in a decade.
Low prices mean growers in the European Union will plant fewer acres, and a ban on neonicotinoid pesticides could impact yields, she said. Neonicotinoids, used as seed coatings and produced by companies including Syngenta AG and Bayer AG, protect plants from pests. EU regulators banned the substance for various crops after some studies linked them to unintended deaths of bees.
Output in India, currently forecast to drop by 1 million tons this season, will probably slide further in 2019-20, according to Kingsman. This season's forecast is at odds with researcher Green Pool Commodity Specialists, which expects a record crop. While millers there have been crushing at a fast pace, that won't continue for the rest of the season, Luis-Manso said.
Rising Indian production has been putting pressure on global prices as the government has stepped in to support the local market, aiding exports.
"When we look at the Indian supply and demand for next year, we continue to expect a surplus," Luis-Manso said. "The big question mark is if they will continue with the export policy or not."
Brazil could be the game changer. While Kingsman currently forecasts sugar production of 28 million tons in the center south for the season that starts there in April, falling ethanol prices could mean millers switch to making even more sugar. The researcher currently forecasts that 37.5 percent of all the cane to be processed will be directed to sugar, below most analysts' views.
"If we go from 37.5 percent to 40 percent, that's almost 2 million tons of sugar," she said. "Then what was more or less balanced isn't so balanced anymore."
For now, Kingsman is sticking to its forecast for Brazil as the premium that sugar commands over ethanol for a part of the season still isn't big enough to prompt a bigger switch. The company also has a positive view of crude oil, which could help boost ethanol prices, she said.