KFC Japan Shares Tumble as Pandemic-Driven Demand Subsides
(Bloomberg) -- A long-running, and pandemic-boosted, fried chicken bubble in Japan just might be coming to end.
Same-store sales at KFC Holdings Japan, the operator of the eponymous fast-food chain in Japan, fell 1% in June versus the previous year, breaking a streak of successive increases that dates back to 2018, and which had lifted the shares out of a nearly decade-long slump.
With sales having also risen every month throughout Japan's coronavirus outbreak, the drop in June was enough to send investors to flight. Shares in KFC Holdings Japan fell 9% in Tokyo Tuesday, the most since the market crash following the 2011 earthquake and tsunami.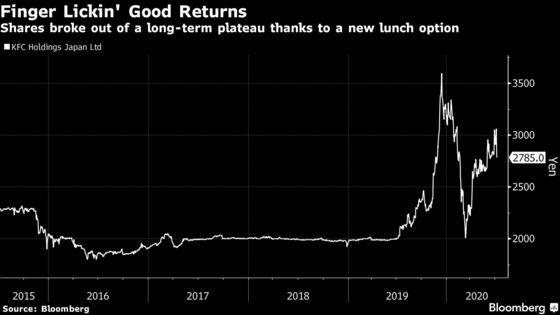 Shares had already been rising on the back of a 500 yen ($4.65) lunch campaign first introduced in 2018 and credited with breaking customer perceptions of the brand, which is customarily eaten around Christmas time in Japan, and boosting its sales throughout the year. Then, while eat-in restaurants suffered during the Covid outbreak, KFC Japan soared, supported by the increase in demand for easy meals to take out.
Same-store sales surged 33% year-on-year for the month of April and a further 38% in May. KFC Japan shares rose over 50% from the March bottom during the same period.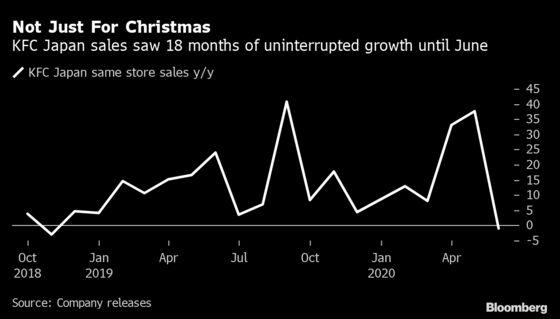 "With strong performance in April and May, investors may have anticipated the trend would continue to June," said Masayuki Otani, chief market strategist at Securities Japan Inc. "But with the economy reopening, it's no surprise to see customers decline as they have more options to dine out."
McDonald's Holdings Co. Japan was also a beneficiary of the increased demand for take-out foods, with shares rising almost 40% from mid-March. The burger chain's same-store sales rose 6.5% for the month of April and then jumped 15% for the month of May. The company partnered with Uber Eats in 2017 to expand its delivery service.