Key Support Levels Give Way in U.S. Stocks
(Bloomberg) -- A key line of defense for equity bulls has been breached.
The S&P 500 Index fell 0.9 percent to 2,875 as of 12:45 p.m. in New York, sliding below its average price for the past 50 days for the first time since July 5. The technology-heavy Nasdaq 100 Index blew through that support earlier in the day, with selling picking up steam to put it on track for the worst week since March.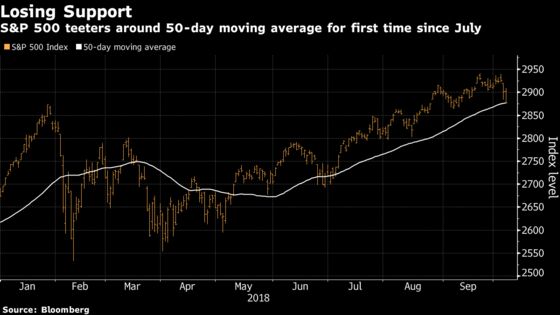 Technology stocks were leading Friday's decline as concern grew that the trade spat between the U.S. and China is worsening. The Nasdaq 100 is hovering about 0.5 percent above its 100-day moving average, a level it hasn't dipped below since May.
Adding to the stock woes are the highest 10-year Treasury rates since 2011. Yields on Friday rose above 3.24 percent as the latest jobs report showed the unemployment rate at a 48-year low.