U.K. to Issue Draft Text; Kerry Sees Markets Deal: COP26 Update
(Bloomberg) -- Tuesday night is the big reveal: the U.K. presidency of COP26 will release a first draft of the summit communique, which will then produce consultations with national capitals across the globe. 
There's hope for a breakthrough at the conference in Glasgow -- U.S. climate envoy John Kerry said he expects the talks to produce a deal on carbon-trading rules. But COP President Alok Sharma says more progress is still needed in negotiations. Delegates are pushing to complete their work before the summit's scheduled end on Friday. 
(All timestamps Glasgow, Scotland)
Methane Pact Gets More Support (6:46 p.m.)
A pact to slash global methane emissions 30% by 2030 now has the backing of 108 countries, U.S. climate envoy John Kerry said during a meeting of the UN Climate and Clean Air Coalition. Countries that have now signed on represent 70% of the global economy, and have helped elevate short-lived greenhouse gases such as methane "from the margins of discussion to the center" of it, he said. 
"We have to help other countries -- particularly emerging economies and less-developed nations," Kerry added. "Since 20 countries are responsible for 80% of the emissions, there is a special responsibility to do it."
Environmental ministers at the session, including officials from the U.S., Canada and Switzerland, took turns announcing millions of dollars in contributions to the Climate and Clean Air Coalition trust fund, which is focused on reducing short-lived climate pollutants.
EU Adds 100 Million Euros for Adaptation Fund (4:44 p.m.)
The European Union's climate chief Frans Timmermans said the bloc would put an extra 100 million euros into the Adaptation Fund, in what will be seen as a bid to help unlock talks over the finalizing of carbon markets in the Paris Rulebook. 
The extra money follows the announcement by Germany's government on Monday of an additional 150 million euros for adaptation, while calling on the EU and others to "step up." Differences remain, however, over whether a proportion of money will be taken from bilateral carbon trades on a mandatory basis to help fund adaptation measures in poorer countries. 
Earlier, think tanks criticized the EU for being too quiet in negotiations and not pressing for a stronger final statement, a draft of which is due this evening. "To the parties pushing for more ambition, you will find the EU on your side," Timmermans said during the afternoon plenary session.
Johnson's Office Confirms Return to Summit (4:08 p.m.)
Boris Johnson's office confirmed the prime minister will travel from London to the climate talks in Glasgow on Wednesday.
"The PM is going up to meet negotiators and get an update on the progress of talks to encourage ambitious action in the final days of the negotiations," his spokesman, Jamie Davies, told reporters on Tuesday.
U.S. Must Deliver on Climate Promises: Ocasio-Cortez (3:48 p.m.)
President Joe Biden has staked his credibility on passage of his broad climate-and-spending legislation that is critical to meeting U.S. emissions reduction targets, U.S. Representative Alexandria Ocasio-Cortez said Tuesday.
"We have to actually deliver the action in order to get the respect and authority internationally," she said during a panel discussion with other lawmakers at the COP26 summit in Scotland. "We have to draw down emissions to get credit for being committed on climate change."
Ocasio-Cortez, a progressive from New York, is one of six Democrats who voted last week against the bipartisan infrastructure bill, which promises investments in electric vehicle charging and grid modernization. She has argued on Twitter that if the infrastructure bill is enacted without passage of the larger spending bill known as the Build Back Better Act, it would actually exacerbate the climate crisis. On Tuesday at the COP26 summit, she insisted failure isn't an option. 
Ocasio-Cortez Tells Youth to 'Keep Pushing' (3:23 p.m.)
House Speaker Nancy Pelosi is leading a congressional delegation to the COP summit on Tuesday. Ocasio-Cortez urged young people to keep up the fight against climate change. 
Countries Must Deliver Better Emissions Plans Next Year: Coalition (3:07 p.m.)
The recent Climate Action Tracker shows that countries are still way off course in keeping global warming in check, according to the High Ambition Coalition -- an intergovernmental group wants to see more action on environmental issues. "We need to see folks coming back in 2022" with their revised emissions-cutting plans, said Tina Stege, climate envoy for the Marshall Islands, in a press conference.
The Climate Action Tracker tracks governments' climate measures against the goals of the Paris Agreement, which aims to keep warming below 2-degrees Celsius and preferably limiting it to 1.5 degrees.
First Draft Needs Consultations with 'Leaders and Capitals': Sharma (2:18 p.m.)
The first draft of the text from the summit will be published overnight and will require negotiating teams to "consult their leaders and capitals," according to COP26 President Alok Sharma. There are diverging views on when countries should come back with ramped-up emissions-cutting targets. 
Sharma reiterated during a press conference that he wants talks between parties to finish by 6 p.m. on Friday, saying that "all hands on deck" are needed to meet that deadline. 
Sharma Says Mountain Still to Climb (1:55 p.m.)
Sharma told reporters that there's a "mountain still to climb" in the coming days and time is running out. There's been some progress, but it's still not enough.
A draft text of the summit communique will be released tonight, he said, as he urged delegates to come back quickly with their feedback.
"The time has come to find political consensus," he said.
U.S., EU Absent From Negotiations on Draft Text, Groups Say (1:35 p.m.)
The U.S. and European Union are standing aside while Saudi Arabia and Russia have free rein in trying to lower the ambition of the final decision document that emerges from COP26, according to the World Resources Institute and E3G. 
The think tanks' criticism deals with the timing of when countries will have to boost their emissions-cutting ambitions in an effort to keep alive the goal to limit global warming to 1.5-degrees Celsius. Poorer countries have called for it to happen within the next couple of years. "The next 24 hours are essentially really make or break," said Jennifer Tollmann, senior policy advisor at E3G, speaking about the state of the negotiations.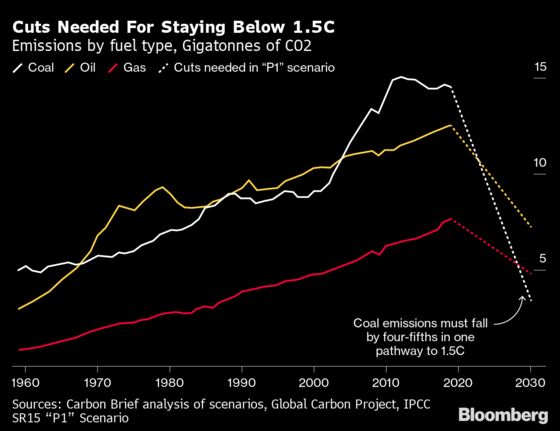 Transition From Oil Isn't Simple, Scotland's Sturgeon Says (1:02 p.m.)
Scottish First Minister Nicola Sturgeon said the transition from fossil fuels to renewables needs to be carefully managed in order to protect 100,000 people in Scotland who work in the oil and gas sector.
"It's not as simple as flicking a switch, there are careful transitions that need to be done," Sturgeon told Bloomberg TV in an interview. "We need to make sure that as we wind down dependence on oil and gas, we are increasing our reliance on the alternatives and also moving the people who currently work in oil and gas into alternative jobs as well."
Sturgeon said a "very rigorous climate assessment" should be done before development is allowed in the Cambo oil field west of the Shetland Islands that's owned by Siccar Point Energy Ltd. and Royal Dutch Shell Plc.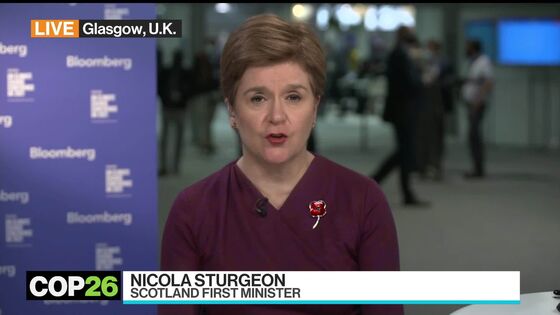 Warnings on climate change are "stark" and "cannot be ignored," she said, adding that Scotland has "vast potential in renewable energy" as well as in technologies such as carbon capture and storage. COP26 needs to deliver "real action" including "near-term commitments" that would cut emissions in half by 2030 and keep alive the chance of limiting global warming to 1.5 degrees Celsius, Sturgeon said.
U.K. to Propose Draft Text of COP26 Summit (12:58 p.m.)
The U.K. government will propose a draft text for the Glasgow talks very late this evening, according to a person familiar with the process.
The U.K. presidency of COP26 is seeking a way to compel countries to come back before 2025 with new pledges, amid protest from some governments that it is trying to rewrite the 2015 Paris deal.
So the U.K. is instead planning to use clause 4.11 of the Paris deal to remind countries that they can submit a new pledge every year, the person said. It may also propose a date for countries to come back, for example by the 2023 stocktake.
Climate-Tech Investment Has Been Warming Up as Well: BNEF
John Kerry Interview Extracts:
The following are the key takeaways as they happened from John Kerry's interview with Bloomberg Editor-in-Chief John Micklethwait:
Kerry Says Putin Knows He Must Act on Climate Change (12:11 p.m.)
"Russia is at the table with us," he said. "Putin knows it's a real problem."
"Putin has Siberia burning and infrastructure for extraction affected by melting permafrost."
Kerry Defends U.S. Action on Climate Change (12:03 p.m.)
"There are a lot of people there who really want to make things work right now," he said. "I just have this confidence. It goes in cycles and it will come together."
Kerry rejected the notion that climate action is a project of the elite. "I don't because Mother Nature is going to be relentless," he said. "And she's more powerful than any of us."
"The question is can we manage the potential of the certain amount of chaos that will come if we don't" tackle the threat. "That is why Glasgow is so critical - this moment is so critical."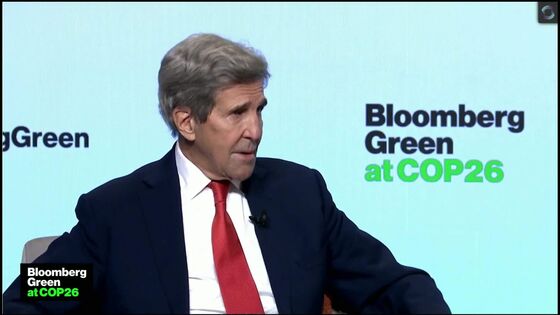 Kerry Says Finance Industry Essential to Climate Action (12:01 p.m.)
"The only way to prevail is by getting private sector capital," Kerry said. "We cannot win without the private sector at the table."
"No government in the world has the money necessary to do this," he said. "Billions doesn't do it, you gotta have trillions."
Kerry Optimistic of Real Progress in Glasgow (11:56 a.m.)
The key to what happens in Glasgow is the follow-up, doing "handholding" to help countries achieve their goals, Kerry said.
"I think something is happening," he said. "The way we're going to get where we need to go is to work with Indonesia, so their promises become real, work with India."
"We said we'd do the handholding necessary to bring technology to the table," he said.
Kerry Was Up Until the Wee Hours Working for Progress (11:49 a.m.) 
Asked how he can expect a deal on methane without China on board, he said: "We're working at it," adding that he was up to 3 a.m. in talks to further such issues.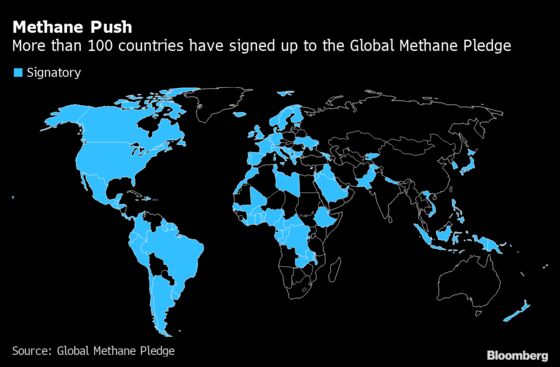 "This is a genuine effort by President Biden to get people together" and find solutions, Kerry said.
Kerry said he believes a deal is possible on Article 6. "I think we can finish the rule book here," he said, adding that he was going out on a limb to say so. 
Kerry Says Glasgow Is Key Test of Climate Progress (11.44 a.m.)
COP26 is a key test of world progress in tackling climate change: "This is the check point" after Paris, Kerry said.
"If I want to deal with the wish list sure I want to see something extra," he said. But we have to deal with "reality" and challenges of "multilateralism."
Kerry said it would be "insanity" not to check progress in meeting targets each year.
"This is a long journey and now really is the test of whether we can get there," he said.
Johnson Set to Return to COP (11:17 a.m.)
Boris Johnson is poised to return to COP26 talks in Glasgow on Wednesday, according to two people familiar with the situation. Johnson's office declined to comment on the premier's movements. The idea is to support negotiators, one of the people said.
U.K. Won't Join Deal to End Fossil Fuel Output (11:12 a.m.)
The U.K. won't join an alliance of countries fixing a date to phase out fossil fuel production, saying doing so could force it to face a cliff edge in energy supply. 
The Beyond Oil and Gas Alliance is being spearheaded by the governments of Denmark and Costa Rica and is expected to announce new member countries on Wednesday at the climate talks in Glasgow, Scotland.
"No other significant oil and gas producing nation has gone as far as the U.K. in supporting sector's gradual transition to a low carbon future," a spokesperson said in a statement.
Brickmaker Earnings Convey Message to COP26 (10:48 a.m.)
Record earnings at the world's biggest brickmaker show how profitability is becoming increasingly linked to measures that reduce energy consumption, according to Wienerberger AG's chief executive. 
Sales and net income hit new highs through the first nine months of the year while greenhouse-gas emissions fell 6% due to lower energy use, the Vienna-based company reported Tuesday. That conveys a message to delegates gathered at COP26, CEO Heimo Scheuch said in an interview. 
"It's no use making pledges to 2040 or 2050," he said. "We need short-term goals that can be implemented right away. It's our obligation to be as energy efficient as possible."
Jane Goodall Seeks Different Outcome From Paris Accord (9:33 a.m.)
Famed conservationist Jane Goodall says she's hoping COP26 in Glasgow "will be a little bit different from the Paris accord" in 2015. After Paris, many countries didn't uphold their commitments to reduce carbon emissions as a result of fossil fuels, she said. For those that did, it was "mainly because they exported their dirty industries to countries like China and India."
Tuesday Is Gender Day at COP26 (8:36 a.m.)
Some 80% of those displaced by climate change are women and children, Scotland's First Minister Nicola Sturgeon said on Twitter. The Scottish Government and UN Women earlier this month issued the Glasgow Women's Leadership statement calling for women to have a greater role in finding a solution to the crisis.
Climate change "is the most serious issue of our generation," New Zealand Prime Minister Jacinda Ardern said in video message. "Some of its most significant impacts will be faced by women."
EV Laggard Australia Won't Ban Gas Guzzlers (7:05 a.m.)
Australia, which set underwhelming new climate targets and rejected a pact on curbing methane emissions, won't join other nations in setting a deadline to end sales of new internal combustion engine cars. "We will not be forcing Australians out of the car they want to drive, or penalizing those who can least afford it through bans or taxes," Prime Minister Scott Morrison said Tuesday.
In 2019, Morrison turned a bid by the main Labor opposition to shift away from gas guzzlers into an election issue, claiming electric models wouldn't be able to tow a trailer or boat, making them incompatible with Australia's recreational lifestyle. The nation remains a global laggard on adoption of battery-powered vehicles.