Kaisa Misses Wealth Product Payout on 'Unprecedented' Stress
(Bloomberg) -- Chinese developer Kaisa Group Holdings Ltd. missed payments on wealth management products it guaranteed, the latest sign of stress in the nation's beleaguered real estate industry.
The company has faced "unprecedented pressure on its liquidity" due to unfavorable factors such as credit rating downgrades and a challenging property market environment, Kaisa said in a statement on Thursday. The developer and the issuer Kaisa Finance will work out a repayment plan soon, it added. 
Kaisa's bonds and shares tumbled on Thursday on mounting concerns over its financial health. The company joins troubled industry giant China Evergrande Group in seeing its cash crunch reach the point where it hurt investors in high-yielding wealth products.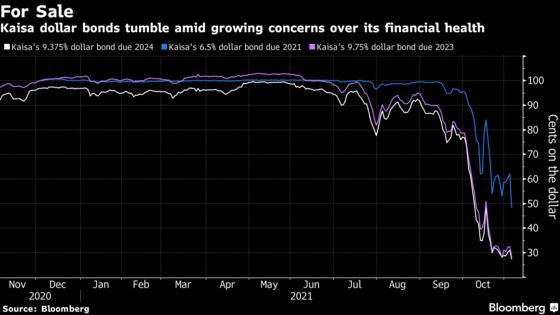 Kaisa became a focus of investor concern after it canceled meetings with investors in October, triggering doubts about its liquidity and sending its dollar bonds lower. Downgrades by both S&P Global Ratings and Fitch Ratings a few days later caused a fresh sell-off in the developer's shares, which have tumbled more than 70% this year. Its dollar bonds are among the worst performers in a Bloomberg index.
Kaisa's 6.5% dollar note maturing in December fell 15.9 cents on the dollar to 46.2 cents, Bloomberg-compiled prices show, suggesting growing doubt over the firm's capacity to service its near-term debt. Its shares closed 15% lower in Hong Kong to the lowest price since its 2009 listing.
There is 12.8 billion yuan ($2 billion) in principal and interest outstanding on the wealth products, China's Economic Observer reported, without citing anyone.
Some of Kaisa's retail investors gathered in the developer's Shenzhen headquarters on Thursday to meet with Vice Chairman Mai Fan and management of Kaisa Finance, the company said.  
Kaisa offered a plan to repay in cash installments, paying 10% of a product's principal and then 25% of interest every quarter, the Hong Kong Economic Journal reported, citing the discussions. Kaisa said the final plan is yet to be announced. 
"Kaisa is a responsible firm," Chairman Kwok Ying Shing told retail investors through a call, according to a statement by the company. "If you give Kaisa time, Kaisa has the ability and methods to repay."
The missed payments come about two months after Evergrande faced protests from investors demanding money on similar overdue products. Evergrande had been selling the investments to individuals and even employees to raise funds as other sources of financing dried up in the wake of China's crackdown on leverage in the property sector.
Evergrande offered investors the choice of accepting payments in cash installments, properties, or forgiveness of bills owed for apartments they had purchased. With more than $300 billion in liabilities, the real estate conglomerate is at the center of a widening debt crisis among China's developers.
The first Chinese builder to default on dollar bonds, Kaisa completed a debt restructuring in 2016. Since then, it has grown to become China's third-largest dollar debt borrower among developers with more than $11 billion of bonds outstanding in the currency. It ranked as China's 27th biggest property developer by sales last month. 
Kaisa has a $400 million note due on Dec. 7, and $2.8 billion of dollar bonds maturing in 2022, according to Bloomberg data. It's also scheduled to pay an interim dividend of 4 Hong Kong cents per share on Dec. 17, which would cost the company about HK$281 million.
Authorities in Shenzhen will hold a meeting Friday to discuss liquidity issues of the company and industry peer Fantasia Holdings Group Co., Chinese media outlet Cailian reported, citing unidentified sources. The local housing department has told the two companies to attend the meeting, according to the report. 
Kaisa is "making all efforts" to resolve its liquidity problem such as by speeding up asset sales, it said in the statement. The company is seeking buyers for its Hong Kong-listed property management unit and two residential sites in the city, but no clear buyers had emerged, Reuters reported last week.