Junk Bond Sales Heading for Shakeup After Big But Boring Year
(Bloomberg) -- After a year dominated by refinancings, things could be about to get a lot more interesting for Europe's high-yield market in 2020.
Bankers expect leveraged buyouts and lower rated credits to drive a bigger share of bond sales next year as investors dial up their appetite for risk in a bid to secure market beating returns. In contrast, a mood of investor caution has characterized much of 2019 amid concerns around rising default rates and a turn in the business cycle.
Speculative-grade supply this year totaled 78.2 billion euros equivalent ($87.1 billion), the second highest tally after 2017, according to data compiled by Bloomberg. At 66% of issuance, BB-rated credits have had their largest contribution since 2006, analysts at Barclays Plc said in a client note. The proportion of refinancing volumes, at 74%, has been higher this year than in 2018 and 2017, the analysts added.
"Given the 'lower-for-longer' mind set and what looks to be a healthy market backdrop, we expect the demand for higher yields to increase," said Mansour Nehlawi, who works for the high yield and leveraged loans syndicate desk at Citigroup Inc. in London. "This opens up room to weaker credits and more junior parts of the capital structure."
The green shoots of this changing dynamic could be seen as early as November, when Jaguar Land Rover Automotive Plc, Teva Pharmaceutical Industries Ltd and Casino Guichard Perrachon SA were all able to increase the size of their bond issues despite well-flagged credit concerns.
Read More: Europe's Junk Bond Buyers Go Big Before They Go Home
"If we're correct in our market view in terms of seeing a strong year for credit, I'd expect more lower rated issuance, both single B or CCC," JPMorgan strategist Daniel Lamy said in an interview.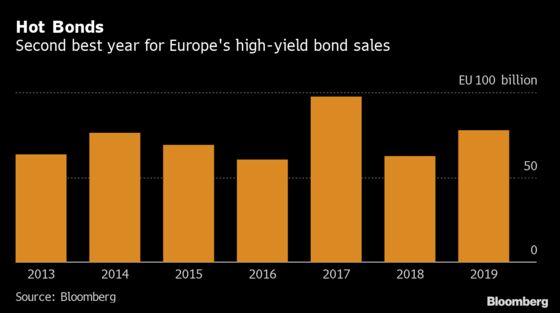 While conditions look ripe for refinancing deals to continue at a brisk pace, they may be less of a defining feature of the primary market as the quantity of M&A transactions picks up next year. A lessening of macro risks, from Brexit to global trade tensions, would provide a further support.
"We'll likely see more LBO activity going into 2020 due to the growing amount of dry powder that private equity firms are sitting on and have available to use, due in part to activity and deal making being delayed this year," said Ian Hart, U.K. Chairman of M&A Ian Hart at UBS AG.
Barclays analysts estimate 20 billion euros of M&A, leveraged buyout and capex-related high-yield bond issuance in 2020 in Europe, up from 15 billion euros in 2019.
"We also expect to see more public market activity generally, as the U.K remains an open and interesting market for acquirers worldwide, including both the U.S. and China," Hart said.
Europe's high-yield market has handed investors gains of 12.1% this year, the best since 2012, but the riskiest segment of high-yield bonds -- those rated CCC -- have delivered even better returns of 20.1%, according to Bloomberg Barclays index data.
This rating bracket of notes carries an index market value of only 25.6 billion euros, however. That can make top-line returns susceptible to the improving fortunes of a few single names such as French shipping company CMA CGM SA, which represents one of the largest components of the CCC index at 7.7%.
But this headline performance might be tempered by next year's rising default rates, which Moody's Investors Service expect to increase to 3.6% by October 2020 for speculative grade corporates.
"We're remaining defensive in high-yield, concentrating on shorter dated BB names," said Tatjana Greil Castro, a portfolio manager at Muzinich & Co Ltd. "The issue with being at this stage in the cycle is that you know risks are rising, and typically in a recession, it's never the risks you anticipate, it's always the things you never saw coming."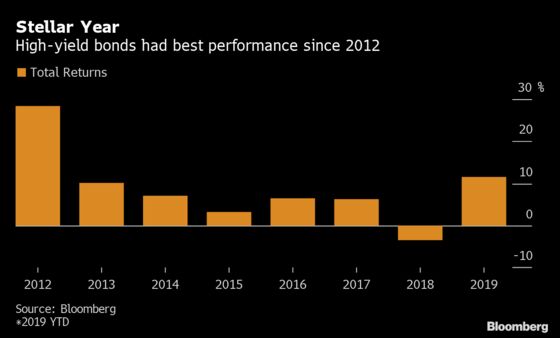 Rock bottom borrowing costs and a moderate improvement in the regions' economic outlook will help fuel the refinancing machine next year, according to syndicate bankers.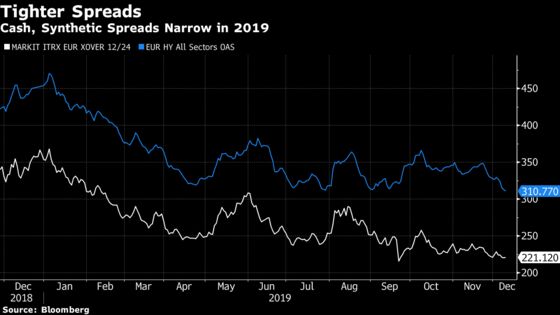 Keen demand for bonds meant some borrowers were able to lock in record-low yields in 2020, including the tightest ever coupon in Europe for U.S. can-maker Crown European Holdings SA. The borrower-friendly conditions also encouraged companies including Eircom Ltd. and Kiloutou SAS to switch part of their debt stack away from loans and into bonds.
Bankers say the emerging loan-to-bond refinancing trend will continue into next year, although they caution it won't be an option for all borrowers -- sponsor-owned firms are still more interested in the shorter call protection offered by loan instruments.
"The main catalyst for high-yield primary volumes in 2019 -- attractive absolute rates for issuers -- is likely to remain in place thanks to central banks' support," said Diarmuid Toomey, co-head of EMEA leveraged debt capital market syndicate at Deutsche Bank AG in London. "We're expecting the strong refinancing trend that we saw this year to continue into 2020 if we see flat or even tighter spreads."